Sesame Kale Crisps
If you are looking for a snack to satisfy that need for something crunchy, these Sesame Kale Crisps are for you!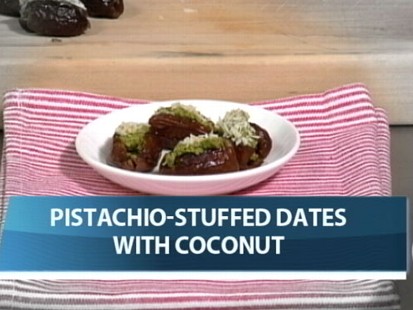 Shira Bocar demonstrates recipes that keep hunger at bay.
From the kitchen of Whole Living Magazine
Yield Makes 2 Cups
Serves 2
|
Skip the bag of chips and take the time to make this tasty and crunchy recipe. Your taste buds and your waistline will thank you.
Ingredients
1 bunch kale, stems removed and leaves torn into 2-inch pieces
2 tablespoon extra-virgin olive oil
1 tablespoon fresh lemon juice
1/4 cup sesame seeds
Coarse salt
Cooking Directions
1.Heat oven to 200 degrees.
2.In a large bowl, drizzle kale with oil, lemon juice, and sesame seeds. Season with salt. Toss until evenly coated.
3.Transfer to a rimmed baking sheet and bake for 30 minutes. Remove from oven and, using a spatula, flip kale leaves over. Return to oven and continue cooking until kale is dry and crisp, 20 to 25 minutes more.
Let cool completely. Store in an airtight container for up to 3 days.
Recipe Summary
Main Ingredients: kale, olive oil, lemon juice, sesame seeds, salt
Course: Snack
More Info: Heart Healthy, High Fiber , Low Calorie, Low Carb, Low Cholesterol, Low Fat, Low Saturated Fat, Low Sodium, Vegetarian, Vegan
Other Recipes That You Might Like