Sharon's Caramel Pumpkin Pie With Brown Sugar Cinnamon Meringue
Pie of Emeril's Eye Contest Honorable Mention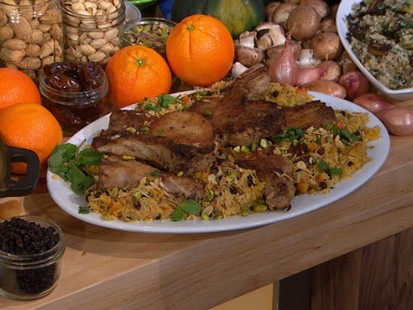 Emeril Lagasse prepares one-pot wonders from his new book, "Sizzling Skillets."
From the kitchen of Sharon Collison
|
Honorable mention in the Pie of Emeril's Eye Contest.
Ingredients
3 eggs
Separated 16 oz can pumpkin
¾ cup sugar
1½ tsp pumpkin pie spice
½ tsp salt
13 oz can evaporated milk
1 unbaked 9" deep dish pie crust
12 caramel candies, such as Kraft, unwrapped
¼ tsp cream of tartar
¼ cup light brown sugar
½ tsp cinnamon, packed
Cooking Directions
Beat egg yolks in large mixing bowl. Keep egg whites covered in mixing bowl in refrigerator until ready to use.
Add pumpkin, sugar, pumpkin pie spice, salt and evaporated milk and beat until well-combined. Pour into pie shell.
Bake at 425 degrees for 15 minutes. Reduce temperature to 350 degrees and continue baking for 45 minutes or until knife inserted in center comes out clean. Allow to cool thoroughly. Refrigerate over night, if desired (preferred).
Place caramel candies in medium sized microwave safe bowl. Add 2 tsp water and microwave in 15 second intervals, stirring frequently, until smooth. Carefully pour caramel evenly over pumpkin pie.
Preheat oven to 350 degrees. Beat egg whites and cream of tartar until soft peaks form. Gradually add brown sugar and cinnamon, beating until stiff peaks form. Spread meringue on top of pie, sealing to the edge.
Bake at 350 degrees for 12-15 minutes or until lightly browned. Serves 8.
Other Recipes That You Might Like