Sherla's Southern Greens
Greens Taste Better With a Little Bacon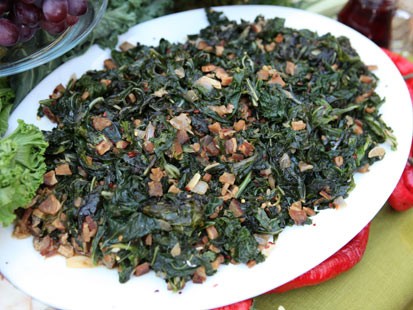 From the kitchen of Michael Symon
|
Lizzie's mom is from Dalton, Georgia, and she's a great cook. So when I want to make anything with a Southern twist, I go straight to Sherla for advice. Here is my take on her collard greens, where I use a mix of hearty greens. This dish is great as a side to anything pork, but it's also comfortable on a plate alongside spicy fried chicken (see page 151). Remember: When cooking greens, there is a ton of shrinkage. Visualize how much you want to end up with, and multiply that amount by about ten when buying the raw greens.
Ingredients
1 pound Swiss chard
1 pound mustard greens
1 pound kale
1 pound collard greens
1 pound bacon, homemade (page 75) or store-bought slab, diced
2 cups diced red onions
4 garlic cloves, thinly sliced
1 teaspoon red pepper flakes
Kosher salt
6 tablespoons red wine vinegar, or more to taste
1 teaspoon sugar
Sriracha or other hot sauce
Cooking Directions
Roughly chop all the greens (with their ribs intact) into about 1/2-inch strips. You should get about 8 cups of each.
In a large Dutch oven or stockpot over medium heat, cook the bacon until almost crisp, about 5 minutes. Add the onions and cook for 3 minutes. Add the garlic and cook for 1 minute.
Add the greens to the pot along with the red pepper flakes and 1 tablespoon salt. Cover the pot, reduce the heat to low, and cook for 10 minutes. Add the vinegar and sugar. Cover and cook for 30 minutes.
Remove from the heat and taste for seasoning. Add salt if necessary, or, if you like it more tart, more vinegar. Add a couple of dashes of Sriracha or to taste. Serve hot.
Recipe courtesy Michael Symon.
This recipe was styled by chef Karen Pickus for Good Morning America.
Other Recipes That You Might Like