The Silver Spoon Cookbook's Sea Bass Baked in a Parcel
A Christmas Eve Dish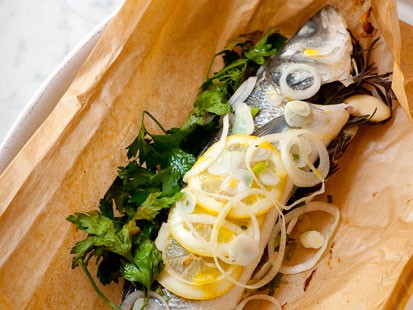 From the kitchen of The Silver Spoon
|
Open this paper parcel at the table for a delicious aroma of lemon and thyme. This is another wonderful dish to add to your Italian Christmas Eve feast.
For more information on the Silver Spoon Cookbook, click here.
Ingredients
olive oil, for brushing and serving
1 fresh rosemary sprig
2 garlic cloves
2 ¼-pound sea bass, spines trimmed,
scaled, and cleaned
1 fresh flat-leaf parsley sprig, chopped
1 lemon, sliced, plus extra for serving
1 onion, sliced into rings
2 scallions, sliced
5 tablespoons dry white wine
salt and pepper
Cooking Directions
Preheat the oven to 400°F. Cut out a sheet of parchment paper and brush with olive oil. Place the rosemary sprig and one of the garlic cloves in the cavity of the sea bass, season with salt and pepper, and place the fish on the parchment paper. Slice the remaining garlic. Sprinkle the fish with the parsley and cover the lemon slices, onion rings, scallions, and garlic slices. Spoon the wine over the fish, fold over the parchment paper to enclose it completely, and seal the edges. Place on a cookie sheet and bake for 15 minutes. Serve with olive oil, lemon slices, and salt.
From The Silver Spoon
Other Recipes That You Might Like