Carla Hall's Skillet Cornbread
Labor Day Dining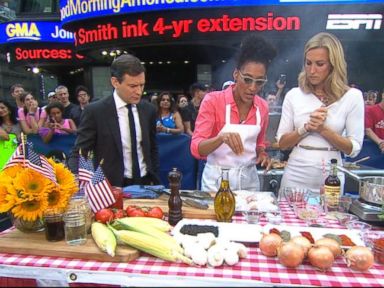 "The Chew's" Carla Hall cooks up her favorite BBQ chicken and strawberry-lime soda.
From the kitchen of Carla Hall
|
Take full advantage of the final days of summer with these Labor Day recipes from Carla Hall. "The Chew" chef's recipe for Skillet Cornbread will please the crowd.
Ingredients
2 cups stone-ground yellow cornmeal
2 tablespoons sugar
4 teaspoons baking powder
1/2 teaspoon table salt
3 large eggs
1 cup sour cream
1 cup canned Cream-style Corn
1/2 cup plus 2 tablespoons canola or other neutral oil
Cooking Directions
Preheat the oven to 425 degrees F. Heat a 9-inch cast-iron skillet in the oven until very hot.
In a medium bowl, combine the cornmeal, sugar, baking powder, and salt. In a small bowl, whisk together the eggs, sour cream, creamed corn, and 1/2 cup oil. Pour the wet ingredients into the dry ingredients and mix until smooth.
Pour the remaining 2 tablespoons oil into the hot skillet, and then pour in the batter. The batter will begin sizzling right away.
Bake until golden and a cake tester inserted in the center comes out clean, about 25 minutes. Serve hot or warm.
Other Recipes That You Might Like