Wolfgang Puck's Spiced Caramel Flan
Wolfgang's Favorite Flan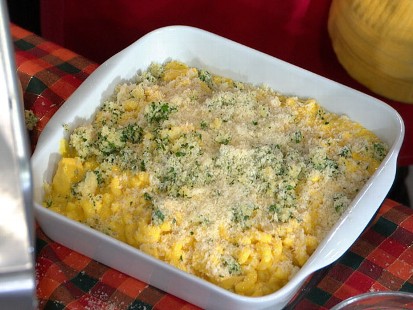 Celebrity chef makes a delicious side dish with Baked Macaroni and Cheese with Turkey.
From the kitchen of Wolfgang Puck
|
Known for his fresh, seasonal California cuisine, Wolfgang Puck is one of America's premier chefs. Take your Thanksgiving to the next level this year with Wolfgang's recipe for Spiced Caramel Flan.
Ingredients
1 14-ounce can sweetened condensed milk
1 17-ounce can evaporated milk
7 large cage-free eggs
1 teaspoon vanilla extract
1 teaspoon ground cinnamon
1/2 teaspoon ground ginger
1/4 teaspoon ground cloves
Zest of one orange
Cooking Directions
Combine all the ingredients together in a blender until smooth; strain.
Preheat pressure oven to 325 degrees F to the BAKE setting.
Prepare Caramel Sauce (recipe below) and pour into an 8-inch round cake pan. Pour flan mixture over caramel and place in a larger cake pan that can serve as a water bath but will still fit inside the oven. Pour 1 inch of water inside larger pan and place in oven.
Lower pressure bar and set pressure valve to SEAL. Set timer to 40 minutes. When time is up, turn pressure valve to VENT until steam dissipates. Slowly raise pressure bar and open door.
Test flan by inserting a knife off center, it should emerge clean.
Cool the flan, then cover and refrigerate for 1 day or up to 3 days. To serve, run a thin knife around perimeter of flan and invert onto a lipped serving plate.
Caramel sauce
1/2 cup sugar
1/4 cup corn syrup
5 drops fresh lemon juice
Place all ingredients in a 2 or 4 cup glass measuring cup. Stir until all of the sugar is moistened.
Place measuring cup with ingredients in microwave and cook on high until bubbles start piling up on top of each other. The time it will take depends on the power of your microwave. Average time is about 3 minutes. Check for color change frequently. Once the sugar starts to turn amber in color, carefully remove and let it sit for up to 30 seconds until you have the desired color. The color will deepen as it sits. Use caramel immediately before it gets hard and use caution – the mixture is extremely hot.
Recipe courtesy Wolfgang Puck
This recipe was styled by chef Karen Pickus for Good Morning America.
Other Recipes That You Might Like