Spike Mendelsohn's Farm-Fresh Potato Salad
Who Doesn't Like Potato Salad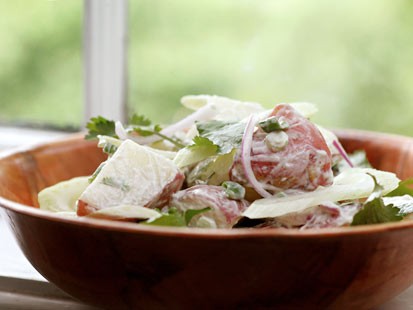 From the kitchen of Spike Mendelsohn
|
Who doesn't love potato salad? If you raised your hand, we can't be friends. Here's a fresh, basic recipe that goes with any meal. You can make this one day ahead.
Ingredients
5 pounds Red Bliss potatoes, washed and each cut into eighths
Sea salt
2 cups Homemade Basic Mayonnaise
1 cup sherry vinegar
1/2 cup extra virgin olive oil
2 tablespoons whole-grain mustard
1 small red onion, diced
2 stalks celery, chopped
5 garlic cloves, crushed
1 bunch fresh thyme, chopped
1 bunch fresh parsley, chopped
Freshly ground black pepper
Cooking Directions
Put the potatoes in a large pot over high heat, cover with water, and season with salt. Bring to a boil, reduce the heat to low, and cook until the potatoes are fork tender, 15 to 20 minutes.
Drain and set aside to cool.
Meanwhile, in a large bowl, stir together the mayonnaise, vinegar, oil and mustard until well combined. Add the onion, celery, and garlic and mix until well combined.
When the potatoes are cool enough to handle, cube them and add to the bowl. Add the thyme and parsley, season with salt and pepper, and toss. Serve immediately.
Other Recipes That You Might Like