Buddy Valastro's Spinach-Artichoke Dip with Parmesan
A Tailgating Favorite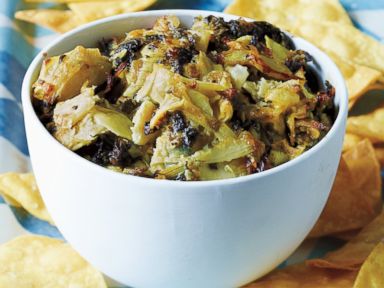 From the kitchen of Buddy Valastro
|
It's no secret that Cake Boss Buddy Valastro is a sweets expert, but in his new book, "Family Celebrations with the Cake Boss," he proves he knows a thing or two about savory food too. Check out Buddy's recipe for spinach-artichoke dip with parmesan below.
Ingredients
2 cans (14 ounces each) artichoke hearts, drained and squeezed of excess moisture
½ cup frozen thawed spinach, squeezed of excess moisture
1 cup mayonnaise (regular or reduced fat)
½ cup finely grated Parmesan
1 can (4.5 ounces) green chilies, drained
Freshly ground black pepper
Tortilla chips
Cooking Directions
Position a rack in the center of the oven and preheat the oven to 375°F.
Finely chop the artichoke hearts and spinach and squeeze out any extra juices that develop. Transfer them to a large bowl. Add the mayonnaise, Parmesan, and chilies. Season with pepper, and stir well.
Transfer the dip to a 9-inch-square glass baking dish or pie plate. Bake until the top is browned and the dip is cooked through, 35 to 40 minutes.
Serve warm or at room temperature, with tortilla chips.
Visit BuddyOnTour.com to learn more about how you can see him make this dish in person!
This recipe was styled by chef Karen Pickus for Good Morning America.
Recipe reprinted with permission of Buddy Valastro.
Other Recipes That You Might Like