Emeril Lagasse's Spinach, Leek and Gruyere Crustless Quiche
3.14 Times the Flavor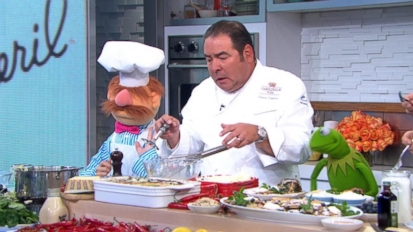 The Muppets join Emeril in the kitchen to cook up a crustless quiche with spinach and gruyere.
From the kitchen of Emeril Lagasse
|
Just in time for National Pi Day, Emeril Lagasse shared his recipe for a spinach, leek and gruyere crustless quiche on "Good Morning America." Start 3.14 off right with this healthy breakfast "pie."
Ingredients
Non-stick cooking spray
2 tablespoons extra-virgin olive oil
1 pound baby, flat-leaf spinach, thick stems removed and leaves roughly chopped
2 leeks, white part only, thinly sliced, about 3 cups
2 teaspoons minced garlic
1 teaspoon coarse salt
1/2 teaspoon crushed red pepper
6 large eggs
6 large egg whites
One 12-ounce can evaporated skim milk (fat free)
1/8 teaspoon ground nutmeg
4 ounces Gruyere cheese, coarsely grated (about 1 cup)
Cooking Directions
Preheat the oven to 350 degrees F. Spray an 8-inch square baking dish* generously with non-stick cooking spray and set on a baking sheet.
Working in two batches, heat 1 tablespoon of the oil in a large skillet over medium heat, add half the spinach, leeks, garlic, salt and red pepper. Cook until the spinach and leeks are tender and most of the water from the spinach has evaporated, 3 to 5 minutes. Transfer to a plate and repeat with the remaining oil, spinach, leeks, garlic, salt and red pepper.
In a large mixing bowl, combine the eggs, egg whites, skim milk, and nutmeg and whisk well to combine.
Add the spinach mixture to the prepared baking dish and spread evenly. Pour in the egg mixture and sprinkle the gruyere over the top. Bake for 40 to 45 minutes, or until the quiche is puffed and golden and the eggs are set.
Remove from the oven and allow the quiche to cool slightly before serving warm or at room temperature.
*You can use any 6 cup baking dish; just adjust the cooking time accordingly. If the dish is more shallow than an 8-inch square, the cook time will be less.
Recipe courtesy Emeril Lagasse, copyright MSLO, Inc., all rights reserved.
This recipe was styled by Karen Pickus for Good Morning America.
Other Recipes That You Might Like