Home
>
GMA
>
Recipes Home
>
Tasting Table's Spring Trifle with Meyer Lemon Curd, Macerated Strawberries and Matcha
Tasting Table's Spring Trifle with Meyer Lemon Curd, Macerated Strawberries and Matcha
Easter Eats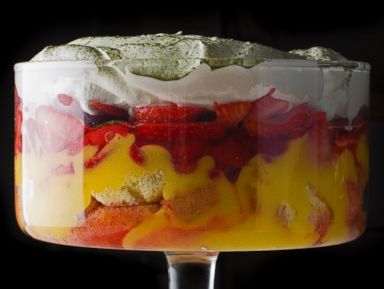 From the kitchen of Tasting Table
|
Easter classics like honey-baked ham and deviled eggs have made appearances at your holiday table for the last how many years? Spice things up this time with an updated recipe that evokes all things spring: TastingTable.com's take on Spring Trifle with Meyer Lemon Curd, Macerated Strawberries and Matcha.
Ingredients
1 1/2 cups heavy cream
8 cups sponge cake, torn into bite size pieces
2 tablespoons matcha powder
Macerated Strawberries
2 pounds strawberries, hulled and sliced
4 tablespoons sugar
3 teaspoons lemon juice
2 teaspoons orange blossom water (optional)
For the Meyer Lemon Curd
1/2 cup water
10 egg yolks
1 1/2 cups sugar
2/3 cup fresh Meyer lemon juice
Peel from one Meyer lemon
1 cup chilled unsalted butter cut into 1/4-inch slices
Cooking Directions
Macerate the strawberries: In a medium bowl, stir together the strawberries, sugar, lemon juice and orange blossom water. Set aside at room temperature while you make the Meyer lemon curd, stirring every 15 minutes or so.
Make the Meyer lemon curd: In a medium saucepan over medium heat, add ½ cup of water and bring to a simmer. Set a medium heatproof bowl over the simmering water. To the bowl, add the egg yolks, sugar, Meyer lemon juice and Meyer lemon peel and cook, stirring frequently, until the mixture has thickened, about 10 minutes. Transfer the curd to a fine-mesh sieve set over a medium bowl and, using a spatula, push it through the sieve to strain the curd (discard the Meyer lemon peel). To the strained curd, add one slice of the butter and stir until the butter has melted. Repeat with remaining butter. Set the curd aside to cool.
In a large bowl using a whisk, or using the whisk attachment of a stand mixer, whip the heavy cream to soft peaks. Set aside.
To assemble the trifle: Line the bottom of a 3-quart trifle bowl with the sponge cake. Pour the Meyer lemon curd sauce over the cake. Next, using a small sieve, dust half of the matcha over the meyer lemon curd. Spoon the macerated strawberries over the curd, then top with the whipped cream. Dust with the remaining matcha and serve.
Recipe courtesy TastingTable.com.
Other Recipes That You Might Like