Stanley Tucci's Pasta Casserole
Try One of Stanley's Family Recipes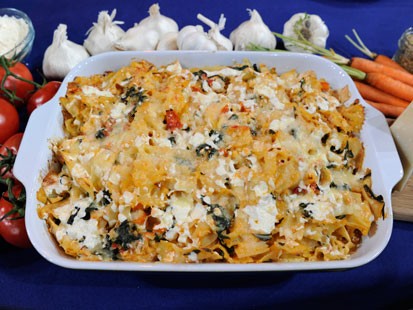 From the kitchen of Stanley Tucci
|
My mother created this recipe and it is one of my children's favorite dishes. "I was inspired to create this recipe because I wanted a dish that would serve a group and still allow me time to visit with company," explains Joan. It may be prepared one day in advance—just cover and refrigerate overnight. Allow the casserole to return to room temperature before baking.
Ingredients
4 tablespoons (½ stick) butter
¼ cup all-purpose flour
2 cups whole or skim milk
Kosher salt and freshly ground black pepper to taste
1/8 teaspoon nutmeg
1 pound Swiss chard, tough stems removed and discarded and leaves coarsely chopped
1 pound farfalle
2 tablespoons olive oil
2 cups Maria Rosa's Sauce
½ cup grated Fontina cheese
½ cup grated Jarlsberg cheese
½ cup grated mozzarella cheese
½ cup finely grated Parmesan cheese
Cooking Directions
Preheat the oven to 350ºF. Melt the butter in a medium-size saucepan set over medium-low heat. Whisk in the flour, then slowly whisk in the milk. Cook the sauce, whisking frequently, until it thickens, about 10 minutes. Season with salt and pepper, and stir in the nutmeg. Cover with plastic wrap and set this besciamella sauce aside.
Bring a large pot of salted water to a boil. Add the Swiss chard and cook until tender but firm, 8 to 10 minutes. Remove with a slotted spoon to a fine-mesh sieve. Drain, pressing out any excess water. Return the water to a boil. Add the pasta and cook until al dente, following the package instructions. Drain well and place the pasta in a large bowl and toss with the olive oil. Toss the pasta with the Swiss chard, 1 cup of Maria Rosa's Sauce, the White Sauce, and the grated Fontina, Jarlsberg, and mozzarella cheeses.
Spread the remaining 1 cup Maria Rosa's Sauce over the bottom of a large casserole or baking dish. Spread the pasta mixture on top of the sauce and sprinkle with the Parmesan cheese. Bake until the sauce is bubbly and the casserole is warmed through, about 30 minutes.
SERVES 6
WINE PAIRING: Medium white or light red
VARIATION: Penne or mezzani pasta may be substituted for the farfalle.
Recipe courtesy Stanley Tucci.
This recipe was styled by chef Karen Pickus for Good Morning America.
Other Recipes That You Might Like