Stephanie O'Dea's Slow Cooker Hash Brown Breakfast Casserole
So You Can Just Worry About the Turkey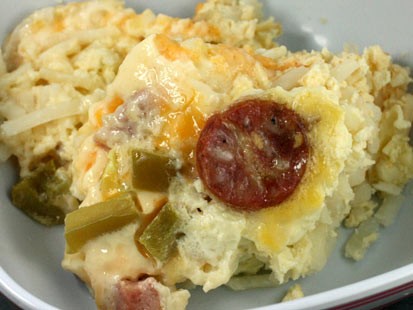 From the kitchen of Stephanie O'Dea
|
We're hosting out-of-town family this Thanksgiving, and while I love entertaining, I don't really want my brother-in-law nosing around the kitchen while I'm trying to peel potatoes and dice onions at the crack of dawn. Instead, I plug the slow cooker in the night before and let breakfast cook while we sleep. In the morning, my guests can serve themselves a hot, fully cooked breakfast to enjoy at their leisure while watching the parade on TV.
Stephanie O'Dea is an author and award-winning blogger, check out her website here.
Ingredients
1 (30-ounce) package of plain frozen hash brown (shredded) potatoes
12 whole eggs
1 cup skim or fat free milk
1 teaspoon kosher salt
1 teaspoon black pepper
4 chicken and apple sausage links, diced (or diced ham)
1/2 onion, chopped
1 green bell pepper, chopped
1 1/2 cups shredded cheddar cheese
Cooking Directions
Use a 6-quart or larger slow cooker. Spray the inside of your stoneware insert with cooking spray. Dump in the entire package of frozen hash browned potatoes—spread them out with your fingers to break up any noticeable clumps.
In a large mixing bowl, whisk together the eggs, milk, salt and pepper. Stir in the chopped sausage, onion, bell pepper, and cheese. Pour this eggy mixture evenly over the frozen hashbrowns.
Cover, and cook on low for 6 to 8 hours, or on high for 3 to 4 hours. Your casserole is finished when the eggs are fully cooked and the edges begin to brown a bit. If you'd like the cheese to get brown and crispy on the sides, cook it longer.
additional overnight breakfast casseroles you might enjoy
Other Recipes That You Might Like