Stephanie O'Dea's Slow Cooker Italian Beef Sandwiches
An Easy Super Bowl Hit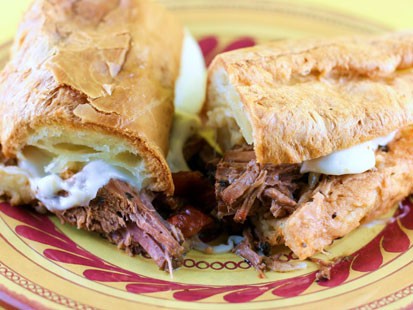 From the kitchen of Stephanie O'Dea
|
I must admit that I don't watch very much football. I grew up in a 49er household, and that's pretty much the only football I'll watch, and even then I kind of daze in and out unless it's a rather exciting game. I did watch last week's game, and followed along until the bitter end.
when we lost.
That said, I'm a sucker for parties, and for hearty comfort food. We aren't hosting a super bowl party this year because 1) it snuck up on me, and 2) I'm not even sure exactly who is playing.
BUT! You should TOTALLY have a party. And make these sandwiches. Because they rock.
The resulting meat is fall-apart tender and nicely seasoned. The cayenne provides a bit of a kick, but not enough to bother sensitive palates. If you'd like more heat, sliced pickled jalapeño peppers works great as an additional sandwich topping.
Stephanie O'Dea is the NYT best-selling author of Totally Together: Shortcuts to an Organized Life and the Make it Fast, Cook it Slow cookbooks.
Ingredients
3 to 4 pound beef rump roast
1 onion, sliced in rings
2 tablespoons dried oregano
2 tablespoons dried basil
1 teaspoon cayenne pepper
1 teaspoon kosher salt
1/2 teaspoon anise
1 (14.5-ounce) can whole tomatoes (undrained)
1 (12-ounce) bottle beer (Redbridge, by Anheuser Busch is gluten free)
8 hoagie rolls (I use gluten free bread)
8 slices of mozzarella cheese
Cooking Directions
Use a 6-quart slow cooker. Put the meat into your cooker (frozen is okay). Top with sliced onion, and all the dried herbs and spices. It will seem like there are way too many herbs—try not to worry. Add the entire can of tomatoes and bottle of beer. Cover and cook on low for 8 hours, or until meat shreds easily with two large forks. Shred the meat completely, and stir well.
Serve on toasted rolls with melted mozzarella cheese.
Recipe courtesy Stephanie O'Dea.
other rocking sandwiches and football-type fare:
party little smokies (two recipes here)
Other Recipes That You Might Like