Stephanie O'Dea's Slow Cooker Mexican Breakfast Casserole
Make Ahead Meal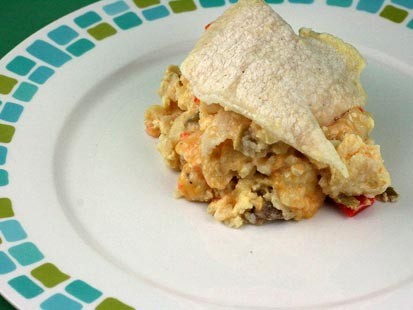 From the kitchen of Stephanie O'Dea
|
If your ideal Mother's Day revolves around lounging in bed as long as possible, I've got a great breakfast for you—one that your family can easily throw together without destroying the kitchen, and one that will cook all by itself overnight. Alone. Unattended. And quietly.
Stephanie O'Dea is an author and award-winning blogger, check out her website here.
Ingredients
cooking spray
8-10 corn tortillas
8 large eggs
2 cups low fat milk
1 small onion, peeled and diced
1 (7-ounce) can green chiles, drained
1 red bell pepper, seeded and diced
1 cup frozen corn
1 cup sliced button mushrooms (optional)
3/4 teaspoon kosher salt
1/2 teaspoon black pepper
Cooking Directions
Use a 4-quart slow cooker. Spray the inside of the stoneware insert well with cooking spray, and put a layer of tortillas into the bottom (you may need to tear them to get a good fit). In a large mixing bowl, whisk together the rest of the ingredients. Pour about half of this cheesey egg mixture onto the tortillas, then add another layer of tortillas. Top with the remaining mixture, then top with the final corn tortillas.
Cover, and cook on low for 6 to 7 hours, or until eggs are fully cooked and the edges have begun to brown and the cheese gets a bit crispy on the sides. Uncover your cooker, and cook on high for 15 minutes before serving to release built up condensation.
Enjoy! Happy Mother's Day!
Recipe courtesy Stephanie O'Dea.
additional overnight breakfast casseroles you might enjoy
Other Recipes That You Might Like