Stephanie O'Dea's Witch's Brew
Make This Spooky Drink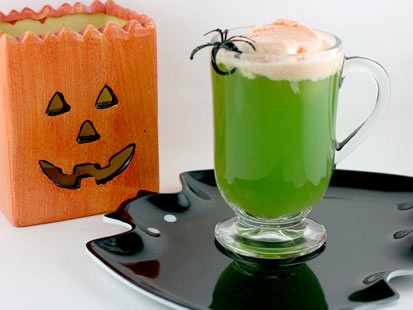 From the kitchen of Stephanie O'Dea
|
Happy almost-Halloween! This is a play-date favorite in our house. The last time I made this, I overheard my 5-year-old guests having the following coversation:
"It doesn't taste like there are spiders or lizards or bugs in it"
"How did your mom even know how to make this?"
"Is my tongue green yet?"
"I've never had ice cream in a drink before"
"I guess this is why witches have green faces"
This is a super easy hot beverage to whip up, and tastes like a lovely citrus cocktail.
Ingredients
2 quarts apple juice
2 quarts pineapple juice
1/4 teaspoon allspice
1 box (6 ounces) lime jello powder
5-6 whole star anise
orange sherbet (to add before serving)
Cooking Directions
You will need a 5.5 quart or larger slow cooker. If you only have a smaller one in the house, you'll need to cut down the juice quantities.
Pour in the juices, and add the allspice. Stir in the jello powder, and float the star anise on top (they look like little spiders!). Cover and cook on low for about 5 hours, or on high for about 3. Serve with a scoop of orange sherbet---it will cool the beverage down enough for small children to enjoy right away, and creates a fun foamy slimy film---perfect for Halloween.
Stephanie O'Dea is the New-York Times best selling author of the "Make it Fast, Cook it Slow Cookbooks and Totally Together: Shortcuts to an Organized Life."
Check out Stephanie's slow cooker blog here.
Other Recipes That You Might Like