Strawberry Italian Ice
A Healthy Alternative to the Super Sweet Dessert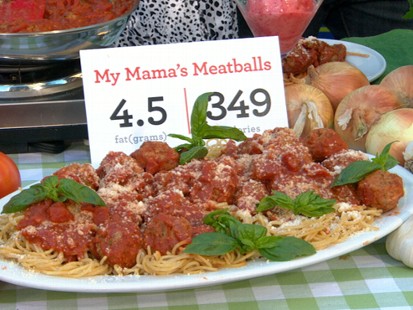 Author of "Now Eat This! Italian" prepares classic Italian dishes with a fraction of the fat.
From the kitchen of Rocco DiSpirito
|
Try this Italian ice recipe from Rocco DiSpirito. It's a cool dessert you can enjoy guilt-free.
Ingredients
6 packets Stevia, such as Stevia In The Raw (2 teaspoons)
½ teaspoon xanthan gum
2 tablespoons raw agave nectar
1½ tablespoons lemon juice
1 tablespoon water
2 cups frozen unsweetened
strawberries—Do Not Thaw!
Cooking Directions
Mix the Stevia and xanthan gum together in a small mixing bowl and set aside.
Pour the agave, lemon juice, and water into a high-powered blender.* Cover and blend until well combined.
Add the stevia and xanthan mixture to the blender. Cover and blend on low until the mixture is well combined, about 10 seconds. Turn off the blender.
Add the still-frozen strawberries to the blender. Cover and blend on high while pushing the strawberries down into the blade with the wand until the mixture is smooth but still frozen, about 5 to 10 seconds. Spoon the strawberry ice into paper cups or chilled bowls and serve immediately.
This ice will stay fresh and tasty, tightly covered, in the freezer up to a month. If it is too hard after freezing, simply temper in the refrigerator for 30 minutes before serving or put in the microwave on high for 5 to 10 seconds until just soft enough to scoop.
This recipe was styled by chef Karen Pickus for Good Morning America.
Recipe courtesy Rocco DiSpirito.
Other Recipes That You Might Like