Richard Blais' Swede-"ish" Meatballs
Fast And Flavorful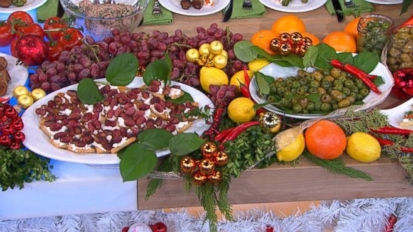 The TV chef shares some delicious recipes for your holiday dinner.
From the kitchen of Richard Blais
|
Still have no idea what you're making for the holidays? Don't worry—Richard Blais stopped by 'Good Morning America' to share easy and flavorful last-minute holiday apps and sides, like this recipe for Swede-"ish" Meatballs.
Ingredients
½ lb turkey
½ lb sweet Italian sausage
3 tbsp ricotta
½ tsp cumin
½ tsp coriander
½ onion minced
2 cloves garlic, minced
3 tbsp chopped parsley
Cooking Directions
Sweat the onion, spices and garlic and cook until soft.
Mix with the meat and ricotta and herbs, and form into balls.
Sear the meatballs and dip in the Harissa ketchup (recipe below) on skewers
Quick Harissa Barbecue Sauce
Ingredients:
½ cup chili sauce
½ cup barbecue sauce
2 tbsp Harissa
Directions:
Mix ingredients and serve with meatballs.
Recipes courtesy of Richard Blais.
This recipe was styled by chef Karen Pickus for Good Morning America.
Other Recipes That You Might Like