Tasting Table's Eggnog Waffles
A Festive Holiday Treat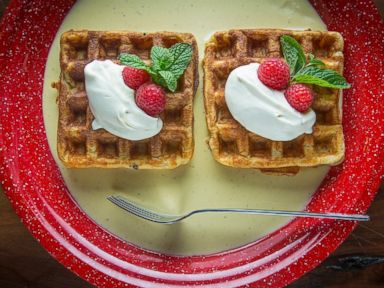 From the kitchen of Tasting Table
|
'Tis the season for that festive creamy drink! Eggnog is perfect on its own, so it makes sense that adding it to recipes takes them to another seasonal level. TryTastingTable.com's version of eggnog waffles below.
Ingredients
Eggnog Anglaise
1 cup heavy cream
1/2 cup whole milk
1 1/2 tablespoons dark rum (optional)
5 tablespoons maple syrup
1/2 teaspoon packed freshly grated nutmeg
3 large egg yolks
Waffles
2 cups all-purpose flour
3 tablespoons packed light brown sugar
1 1/2 teaspoons baking powder
1 teaspoon baking soda
1 teaspoon fine salt
1 teaspoon packed freshly grated nutmeg
3 large eggs, separated
1 3/4 cups buttermilk
1/2 cup (1 stick) unsalted butter, melted and cooled slightly
Whipped Cream
1 cup heavy cream
1/3 cup eggnog anglaise (recipe above)
Freshly grated nutmeg, to garnish
Cooking Directions
Make the eggnog anglaise: Fill a large bowl halfway with ice and water. Set a smaller bowl over the water (make sure water doesn't get in the bowl).
In a small saucepan, bring the cream, milk, rum (if using), 2 tablespoons of the maple syrup and the nutmeg to just before a boil, stirring to dissolve the maple syrup. Remove from the heat.
Meanwhile, in a medium bowl, vigorously whisk together the egg yolks and remaining 3 tablespoons maple syrup for a solid 1 minute, until lighter in color and bubbly.
Whisk just enough of the hot cream mixture into the eggs to gently warm them, about 1/4 cup, then pour the warmed egg mixture into the saucepan of cream. Stir the mixture over medium-low heat until the bubbles along the edge of the pan disappear and the mixture coats the back of a wooden spoon. Transfer to the bowl set over the ice bath and cool completely.
Prepare the waffles: Sift the flour, brown sugar, baking powder, baking soda, salt and nutmeg into a large bowl.
In a medium bowl, lightly beat the egg yolks, then beat in the buttermilk and butter. Stir the wet mixture into the dry until the just combined. Do not over mix. Using a mixer with a whisk, whip the egg whites to stiff peaks. Fold about a third of the whites into the batter, then fold in the rest.
Heat a waffle iron to medium-high heat and the oven to 200 degrees F. Once hot, add 1/4 to 1/2 cup of batter to a grid (roughly 4 inches) of the waffle iron, spreading it with a spoon. Cook until browned and crisp, about 5 minutes.
Whip the cream: Beat the cream to stiff peaks. Fold in the ? cup of the eggnog anglaise. Pour a little eggnog anglaise on a plate, set the waffle on it, top with the whipped cream and a few gratings of nutmeg.
Recipe courtesy of TastingTable.com.
Other Recipes That You Might Like