Teriyaki Steak Sandwich
A Healthy and Satisfying Sandwich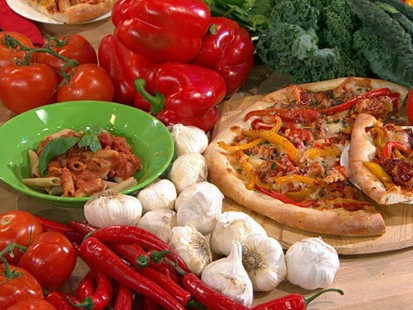 Ellen Kunes, Frances Largeman-Roth explain how to lose weight and eat great.
From the kitchen of The CarbLovers Diet Cookbook
|
Looking for a sandwich with a bit more flair? This is it! The delicious teriyaki flavor makes this great for lunch or
dinner, and the 26 grams of protein and 15 grams of fiber will keep you satisfied for hours.
Ingredients
For Teriyaki Sauce:
2 tablespoons low-sodium soy sauce
3 tablespoons light brown sugar
1 tablespoon minced fresh ginger
2 teaspoons minced garlic
1 teaspoon cornstarch
1 teaspoon sesame oil
½ teaspoon chile-garlic sauce (such as
Sriracha)
For Sandwich:
4 teaspoons vegetable oil, divided
¾ pound lean sirloin steak, very thinly
sliced
2 bunches scallions, trimmed, cut into 2-
inch lengths, whites and greens
separated (about 2 cups)
4 cups sliced shiitake mushrooms (6
ounces)
1 cup snow peas (4 ounces)
4 10-inch whole-wheat wraps
Cooking Directions
Make Teriyaki Sauce:
1. Whisk together soy sauce, ¼ cup water, sugar, ginger, garlic, cornstarch, sesame oil, and chile-garlic sauce in a bowl. Reserve.
Make Sandwich:
Heat 2 teaspoons oil in a large skillet over medium-high heat. Add steak and cook until browned and just cooked through, 2-3 minutes per side. Transfer steak (with its juices) to a bowl. Add remaining 2 teaspoons oil to pan, then add scallion whites and cook, stirring, until charred, 2 minutes. Add mushrooms and cook until softened, 3-4 minutes. Return beef to pan, add scallion greens, snow peas, and teriyaki sauce and cook until heated through and entire mixture is thickened, 2-3 minutes.
Place about ¾ cup mixture in middle of wrap and wrap tightly. Slice in half and serve warm.
Serving size: 1 wrap and ¾ mixture
Calories 342; Fat 15.1g (sat 2.8g, mono 5.3g, poly 4.9g); Cholesterol 41mg; Protein 26g; Carbohydrate 39g; Sugars 15g; Fiber 15g; RS 0.6g; Sodium 640mg
This recipe was styled by chef Karen Pickus for Good Morning America.
Recipe courtesy The CarbLovers Diet Cookbook.
Other Recipes That You Might Like