Tim Love's Grilled Ramps with Game Rub and Lemon Juice
A Great Vegetarian Side Dish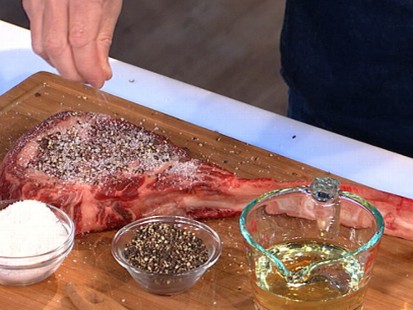 Josh Elliott helps prepare a feast perfect for spring season.
From the kitchen of Tim Love
|
WHAT IS THE AUSTIN FOOD & WINE FESTIVAL?
Austin Food & Wine Festival (April 27-29) celebrates the talent, innovation and unique flavors of Texas while featuring renowned chefs, sommeliers, cocktail experts, culinary personalities, rising stars, and live musical acts, like Lucinda Williams, Mayer Hawthorne & The County, and more.
Austin Food & Wine Festival will offer more than 40 events over three days (April 27-29, 2012), including grand tasting tents, hands-on cooking demos, wine and cocktail tastings, book signings, live musical acts and more.
Where can I get tickets? http://www.austinfoodandwinefestival.com/
Ingredients
1 bunch ramps, cleaned and trimmed
3 T peanut oil
1 lemon, cut in half
2 T game rub
For the Game Rub:
1/2 cup kosher salt
1/2 cup freshly ground pepper
1/2 cup pure chile powder, such as guajillo
1/4 cup ground cumin
1/4 cup fresh thyme leaves
1/4 cup fresh rosemary, finely chopped
Cooking Directions
Evenly oil the ramps with the peanut oil, sprinkle game rub evenly over the ramps. Grill on a hot grill (approx. 1 min each side) until char marks begin to appear. Squeeze half a lemon on the ramps. Remove from heat and serve.
This recipe was styled by chef Karen Pickus for Good Morning America.
Recipe courtesy Tim Love.
Other Recipes That You Might Like