Mini Kimchi Deviled Eggs
Upgraded Classic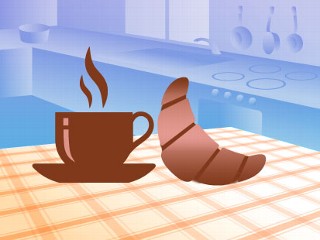 From the kitchen of Teri Lyn Fisher
|
Mini deviled eggs may be among the best appetizers ever invented. A bit of kimchi and a candied-bacon topping add a wonderful umami twist to this classic American hors d'oeuvre.
Ingredients
Deviled Quail Eggs:
24 hard-boiled quail eggs, peeled and halved lengthwise
1/4 cup chopped kimchi (Available at Asian markets and many major supermarkets, this beloved Korean staple has a sweet yet sour flavor. It's made from crunchy fresh Napa cabbage brined then soaked in a rich and fiery chili-garlic sauce.)
2 tablespoons thinly sliced green onions
2 tablespoons mayonnaise (regular or light)
Salt and pepper, to taste
Candied Bacon:
2 tablespoons vegetable oil
1/2 pound bacon, minced
1 1/2 tablespoons granulated sugar
Cooking Directions
Make the candied bacon: Line a baking sheet with parchment paper.
Warm oil in a large skillet over medium-high heat. Add bacon and fry, stirring occasionally, for 6 to 8 minutes, or until crisp. Transfer to a paper towel and drain all but about 2 tablespoons of the bacon grease from the pan.
Return fried bacon bits to skillet and reduce heat to medium-low. Sprinkle sugar over top and stir. Continue stirring until sugar is melted and bacon is well coated, 3 to 5 minutes. Pour candied bacon onto the prepared sheet and spread in an even layer. Let cool and dry, about 30 minutes, before using.
Note: Candied bacon can be stored in an airtight container for up to 3 days. If it begins to get sticky, spread onto a nonstick skillet and dry out over medium-low heat, stirring occasionally.
Make the deviled eggs: Separate yolks from whites; set hollowed whites aside. Place yolks in a mixing bowl and mash together; add kimchi, green onions, and mayonnaise, season with salt and pepper, and stir to combine.
Fill each white with about 1 teaspoon of filling and top with a small sprinkle of candied bacon. Serve.
Other Recipes That You Might Like