Karla Martinez's Tortillas
Make Your Own Wrap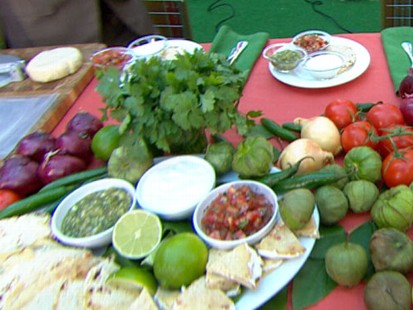 The host of "La Cocina de Karla" cooks up her favorite Latin American dishes.
From the kitchen of Karla Martinez
|
Karla Martinez, the co-host of Univision's "Despierta America," helped celebrate the launch of the new TV network, Fusion, by dishing up some of her Latin recipes on "Good Morning America." Find out how to make her recipe for tortillas below.
Ingredients
2 cups of instant corn masa flour
1 1/3 cups hot water
Cooking Directions
Combine instant corn masa flour and water. Mix thoroughly for about two minutes to form dough. If dough feels dry, add more water (one tablespoon at a time).
Divide dough into equal balls. Cover with damp cloth to keep moist. Line a tortilla press with two sheets of thick plastic wrap. Place each ball between plastic and press until tortilla measures 5 to 6 inches in diameter. Carefully peel off plastic wrap.
Preheat ungreased flat griddle, skillet, or comal on medium-high heat. Cook tortillas one at a time for 50 seconds. Turn, and then cook the second side for another 50 seconds. Cover tortillas with cloth napkin to keep soft and warm.
This recipe was styled by chef Karen Pickus for Good Morning America.
Recipe printed with permission of Karla Martinez.
Other Recipes That You Might Like