Ali Larter's Triple Berry Upside Down Cake
A Sweet End to Any Party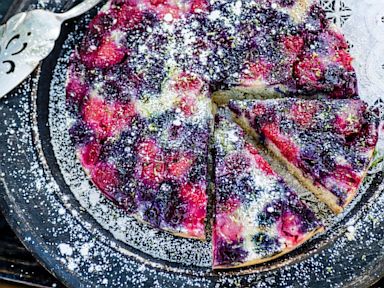 From the kitchen of Ali Larter
|
In her debut cookbook, "Kitchen Revelry," actress Ali Larter shows that, while looking effortless takes some effort, cooking is not about being perfect—it's about having a great time! Try her sweet and flavorful twist on the upside down cake.
Ingredients
1 cup fresh blackberries
1 cup fresh blueberries
1 cup fresh raspberries
3 tablespoons powdered sugar
2¼ cups all-purpose flour
1½ teaspoons baking powder
1 teaspoon sea salt
½ teaspoon baking soda
1 cup whole milk
1 tablespoon fresh lime juice
2 teaspoons vanilla extract
12 taplespoons (1½ sticks) unsalted butter, softened
11/3 cups sugar
3 large eggs
Powdered sugar (for sifting)
Finely grated lime zest (for garnish)
Cooking Directions
Position the rack in the center of the oven and preheat to 350°F. Butter two round 8-inch cake pans with 1.-inch high sides. Line the bottom of the pans with parchment paper, butter and flour.
Combine all the berries in a medium bowl. Add 3 tablespoons powdered sugar and toss gently to coat. Divide the berry mixture equally between the prepared pans, arranging in an even layer. Set aside.
Whisk the flour, baking powder, salt, and baking soda in another medium bowl to blend.
Mix the milk with the lime juice, creating buttermilk, and add vanilla in a small bowl.
Using an electric mixer, beat the butter and sugar in a large bowl until light and fluffy. Add the eggs, 1 at a time, beating well after each addition. Add the flour mixture in 3 additions, alternately with the buttermilk mixture in 2 additions, beginning and ending with the flour mixture and beating just until blended. Spoon the batter evenly over the berries in the pans.
Bake the cakes until a tester inserted into the center of the cakes comes out clean, 40 to 45 minutes. Transfer the cakes to a rack and cool completely in the pans. Invert each cake onto a plate. Remove the parchment paper. Sift powdered sugar generously over each cake.
Garnish with a sprinkling of lime zest. Cut the cake into wedges and serve.
Reprinted from the book KITCHEN REVELRY. Copyright © 2013 by Ali Larter. Photographs copyright © 2013 by Amy Neunsinger. Published by St. Martin's Press.
Other Recipes That You Might Like