Emeril Lagasse's Triple Chocolate Hot Cocoa
Heavenly Holiday Breakfast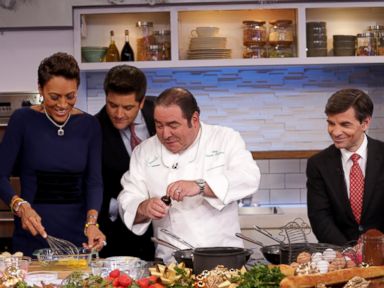 From the kitchen of Emeril Lagasse
|
Christmas morning can get busy between gift opening and testing, but don't let breakfast be an afterthought. Celebrity chef Emeril Lagasse shared his kicked-up holiday breakfast recipes on "Good Morning America" to make your holiday as delicious as possible. Try his recipe for Triple Chocolate Hot Cocoa below and turn your morning meal into the star of the show.
Ingredients
3 1/2 cups whole milk
1 cup heavy cream
3 strips orange zest (orange part only, no white pith)
1/2 teaspoon espresso powder
4 ounces bittersweet chocolate, chopped
4 ounces semisweet chocolate, chopped
2 ounces white chocolate, chopped
1 teaspoon vanilla extract
Pinch of salt
Cooking Directions
In a medium saucepan combine the milk, cream, orange zest and espresso powder and bring mixture just to a simmer. Remove from the heat and all at once add the chopped chocolate. Cover the pan and allow to sit, undisturbed, for 2 minutes. Uncover and add the vanilla and salt and whisk until the chocolate is completely melted and smooth. Remove the orange zest and serve the cocoa hot, in warmed mugs.
Recipe courtesy Emeril Lagasse, courtesy Martha Stewart Living Omnimedia, Inc.
This recipe was styled by chef Karen Pickus for Good Morning America.
Other Recipes That You Might Like