Trisha Yearwood's Brownies with Coconut Frosting
Decadent and Delicious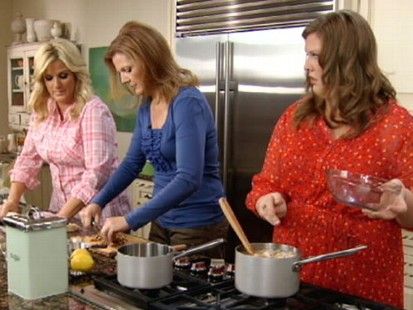 Country music star joins "GMA" to make classic southern foods.
From the kitchen of Trisha Yearwood
|
These brownies are super chocolatey and moist. You won't be able to resist the coconut frosting and chopped nuts on top.
Ingredients
For the brownies:
Cooking spray
2 ounces unsweetened baking chocolate
1/3 cup solid vegetable shortening, such as Crisco
2 large eggs
1 cup sugar
2/3 cup all-purpose flour
1/2 teaspoon baking powder
1/2 teaspoon salt
1 cup chopped pecans
1 teaspoon vanilla extract
Coconut Frosting, recipe follows
For the frosting:
1 cup evaporated milk
1 cup sugar
4 egg yolks
1/2 cup butter (1 stick)
10 ounces fresh or frozen grated coconut, thawed
1 1/2 cups nuts (pecans, walnuts or almonds), finely chopped
1 teaspoon vanilla extract
Cooking Directions
Preheat the oven to 350 degrees F. Spray or grease the bottom of an 8-by-8-by-2-inch pan.
Melt the chocolate with the shortening in the microwave or over a double boiler. Cool slightly. In a mixing bowl, beat the eggs well. Add the sugar and combine thoroughly, then stir the chocolate mixture.
Sift the flour together with the baking powder and salt, and stir into the flour mixture. Stir in the pecans and vanilla extract.
Spread the batter evenly in the prepared pan. Bake until a toothpick inserted in the center comes out clean, 25 to 30 minutes. Cool in pan for 5 minutes and cut into squares. These are delicious warm or cold. Spread with Coconut Frosting.
For the frosting:
Combine the evaporated milk, sugar and egg yolks in a saucepan. Stir with a wire whisk until the yolks are fully incorporated. Add the butter, melt, and bring to a simmer. Cook until the mixture thickens, 12 to 15 minutes, stirring constantly. Add the coconut, nuts and vanilla extract and let cool. Yield: 4 cups.
This recipe was styled by chef Karen Pickus for Good Morning America.
Recipe adapted from Georgia Cooking in an Oklahoma Kitchen (c) Clarkson Potter 2008
Other Recipes That You Might Like