Trisha Yearwood's Marinated Vegetable Salad
Make This Healthy Side Dish This Spring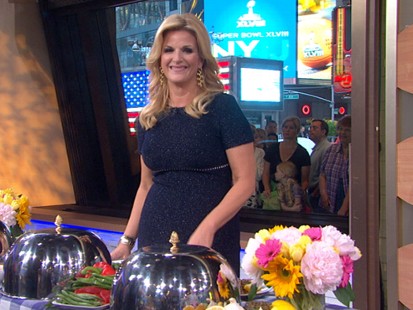 Country music star reveals how she was able to shed weight while managing a busy career.
From the kitchen of Trisha Yearwood
|
Trisha Yearwood's recipe for marinated vegetable salad with green peas and green beans makes a delicious side dish for your family dinner or outdoor party.
Ingredients
1 cup red wine vinegar
1 cup sugar
1/2 cup olive oil
1 teaspoon salt
16-ounces frozen or fresh shelled green peas, defrosted and drained
16-ounces cut green beans, frozen or fresh, defrosted and drained
2 small sweet onions, thinly sliced
1 2-ounce jar chopped pimiento
1 red bell pepper, cored, seeded, and chopped
1 1/2 cups thinly chopped celery
Cook's note: You may substitute canned peas and beans.
Cooking Directions
Bring the vinegar and sugar to a boil in a medium saucepan. Add the oil and salt and set aside to cool. Add to a bowl the peas, beans onions, pimiento, bell pepper, and celery.
Pour the vinegar mixture over the vegetables, cover with plastic wrap, and marinate in the refrigerator for 24 hours. Serve with a slotted spoon to drain the excess oil.
Yield: 8 to 10 servings
Prep Time: 10 minutes
Cook Time: 10 minutes
Inactive Prep Time: 24 hours
Active Time: 20 minutes
Total Time: 1 day 20 minutes
Recipe adapted from Home Cooking with Trisha Yearwood (c) Clarkson Potter 2010
This recipe was styled by chef Karen Pickus for Good Morning America.
Other Recipes That You Might Like