Trisha Yearwood's Mini Meatballs
Impress Guests With This Bite-Sized Starter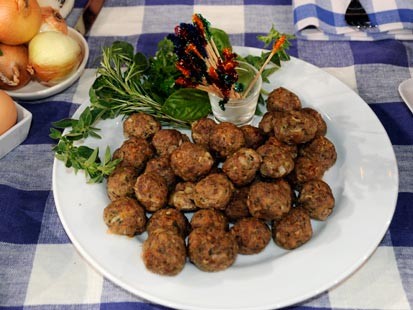 From the kitchen of Trisha Yearwood
|
Impress your guests with Trisha Yearwood's mini meatballs. These bite-sized meatballs make up the perfect party platter or crowd-pleasing appetizer.
Ingredients
2 pounds lean ground beef
1/2 pound ground pork
2 cups Italian-flavored breadcrumbs
4 medium eggs, lightly beaten
1 cup milk
1/2 cup fresh parsley, finely chopped
2 garlic cloves, minced
1 medium onion, minced
Salt and pepper
Cooking Directions
Preheat the oven to 350 degrees F.
In a large bowl or mixer, thoroughly mix the beef, pork, breadcrumbs, eggs, milk, parsley, garlic, onion, salt and pepper. Chill in the refrigerator for 30 minutes. Shape into meatballs and place on a foil-lined shallow baking pan. Bake 30 minutes for medium or 25 minutes for bite-sized. Stick toothpicks in the finished meatballs to serve as an appetizer.
Yield: 30 medium meatballs or 70 small
Prep Time: 30 minutes
Inactive Prep Time: 30 minutes
Cook Time: 30 minutes
Ease of preparation: easy
Active Time: 1 hour
Total Time: 1 hour 30 minutes
Recipe adapted from Home Cooking with Trisha Yearwood (c) Clarkson Potter 2010
This recipe was styled by chef Karen Pickus for Good Morning America.
Other Recipes That You Might Like