Trisha Yearwood's Uncle Wilson's Grilled Onions
A Simple Side Dish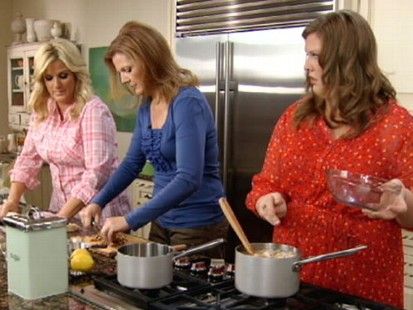 Country music star joins "GMA" to make classic southern foods.
From the kitchen of Trisha Yearwood
|
Serve these onions with warm barbecue chicken or burgers off of the grill. They're a delicious part of any barbecue!
Ingredients
6 large sweet white onions, such as Vidalia
12 strips bacon
2 tablespoons butter
Salt and pepper
Cooking Directions
Peel and wash the onions. With the point of a small, sharp knife, cut a 1-inch core from the top of each onion and make shallow slits in a circle around the top. Wrap 2 slices of bacon horizontally around each onion, and secure them with toothpicks. Then put 1 teaspoon of butter in each core. Season with salt and pepper.
Place each onion on a square of aluminum foil and bring the edges together at the top, leaving a small opening for steam to escape. Put the foil-wrapped onions on the grill and cook for 1 hour, or until the onions are tender when pierced with the tip of a knife. You can also bake in the oven at 350 degrees F for 1 hour. Cool the onions for a few minutes then unwrap and cut into quarters to serve.
This recipe was styled by chef Karen Pickus for Good Morning America.
Recipe adapted from Georgia Cooking from an Oklahoma Kitchen (c) Clarkson Potter 2008
Other Recipes That You Might Like