Twin Chefs' Eggnog French Toast with Bacon and Fresh Fruit
French Toast Gets a Holiday Update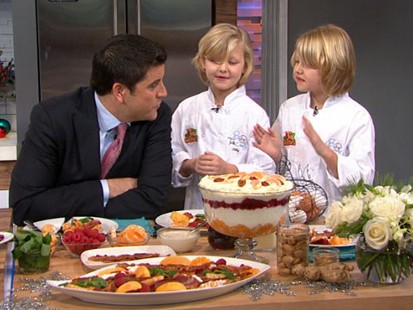 Twin girls show how to transform those leftovers into scrumptious new meals.
From the kitchen of Twin Chefs
|
What better way to enjoy this favorite holiday drink, than in your breakfast? The bread is soaked in eggnog for an indulgent and festive breakfast.
Ingredients
4 slices bacon
4 slices crusty French bread, cut 1 inch thick
1-Cup Eggnog
3 Cuties seedless mandarins
1 Fuyu persimmon
12 raspberries
Pure maple syrup to taste
Vanilla yogurt to taste
Fresh mint leaves for garnish
Cooking Directions
Preheat Panini press to medium high heat.
Preheat oven to 250 degrees.
Place bacon in a heavy bottom skillet and cook over medium heat until crisp, turning as needed. Place bacon on a paper towel lined ovenproof plate and place in warm oven until needed.
Pour eggnog into a shallow bowl and set aside.
Cut bread into 1 inch thick slices. Peel mandarins and cut into 4-quarter inch wheels. Peel persimmon and cut into 8 equal wedges.
Place sliced bread in eggnog and turn over to coat evenly. Remove with a fork and place in hot Panini press. Press gently and cook for 3 minutes remove to a cutting board. Continue cooking the other slices in the same manner. Cut French toast in half and place on plate.
Place 1 slice of bacon on each plate, top each toast with fresh fruit equally. Drizzle with syrup and vanilla yogurt. Garnish with mint leaf and serve.
Recipe courtesy Twin Chefs.
Other Recipes That You Might Like