Twinkie Corndog
Twist on a Classic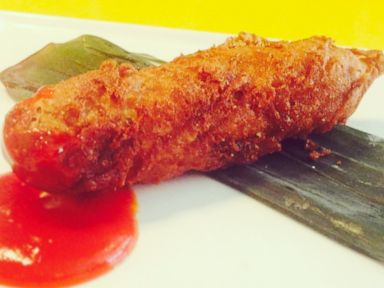 From the kitchen of Hostess
|
It's been nearly a year since Twinkies hit the shelves again -- plenty of time for fans to have devoured them in their classic form and be ready for a twist. Try Chef Miguel Trinidad's recipe for a Twinkie corndog below.
Ingredients
6 Twinkies
3/4 cups milk
1 tsp salt
3/4 cups cornmeal
1 tsp baking powder
2 Eggs
6 skewers
6 of your favorite sausages
4 cups oil for frying
1 cup flour
Cooking Directions
Combine all ingredients in a blender and mix for 2 minutes or until well incorporated. Heat oil to 300 degrees
Skewer the sausages and roll in flour. Dip sausages in batter and drop into hot oil. Fry until golden.
Serve with Calamansi Honey Mustard, a mixture of 2 tablespoons grainy mustard, 1 tablespoon honey and 1 tablespoon calamansi or lime juice. Calamansi is a fruit that tastes like a cross between a lemon and a mandarin orange.
Recipe courtesy Chef Miguel Trinidad, New York City
Other Recipes That You Might Like