Union Square Cafe Fried Chicken
A delicious twist on a beloved classic!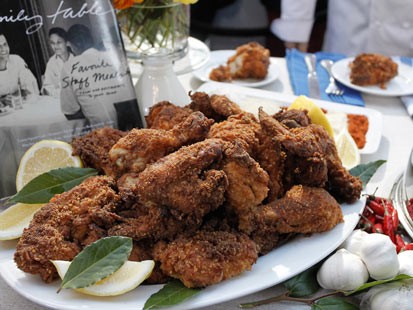 From the kitchen of Michael Romano
|
What distinguishes this fried chicken is the crunch from two ingredients that don't usually appear together in a recipe—Japanese panko bread crumbs, which are coarser and crunchier than standard ones, and graham cracker crumbs, which lend a slightly sweet, nutty flavor to the crust. Add a little bit of heat and garlic for balance, and you have one of Union Square Cafe's most beloved family meal dishes, as interpreted by line cook Ian "Moose" Muse from his mother's original recipe.
Ingredients
1 3- to 3½-pound chicken, cut into 10 pieces (legs, thighs, wings, and breasts split and halved again; back reserved for stock if desired)
2 cups buttermilk
1 cup all-purpose flour
1 cup panko bread crumbs
1 cup graham cracker crumbs
2 tablespoons paprika
2 tablespoons kosher salt
1 tablespoon garlic powder
¾ teaspoon cayenne pepper
Vegetable oil for deep-frying
Cooking Directions
Put the chicken pieces in a large bowl, add the buttermilk, and let soak for 30 minutes at room temperature, turning occasionally.
Combine the flour, crumbs, paprika, salt, garlic powder, and cayenne in a medium bowl, mixing well. Drain the chicken pieces and dredge in the seasoned flour, shaking off the excess.
In a large deep cast-iron skillet, heat about 2 inches of oil over medium-high heat until it reaches 325 degrees on a deep-fat thermometer. Using tongs, carefully add the chicken pieces in batches, without crowding. Cook wings for 6 minutes and the rest of the chicken pieces for 8 minutes. Turn with the tongs and cook on the second side for another 6 minutes for wings, 8 minutes for the rest, or until the interior temperature of a thigh reaches 165 degrees on an instant-read thermometer. Remove the chicken from the oil and drain on paper towels; bring the oil back to 325 degrees before you fry each batch.
Serve immediately.
This recipe was styled by chef Karen Pickus for Good Morning America.
Other Recipes That You Might Like