Valerie Bertinelli's Grilled Chicken Vegetable Soup
Warm Up With These Healthy Soup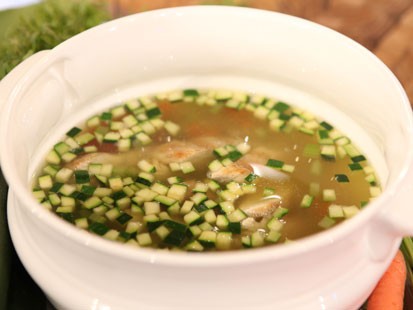 From the kitchen of Valerie Bertinelli
|
"There are some recipes that come from outside of my family and friends that I simply never forget. This is one of them. It's inspired by a soup I had at the Golden Door spa 25 years ago, before I had Wolfie. It's a beautiful, clean, light soup--a spa soup, if you will. The method may seem fussy, but preparing the broth, vegetables, and barley individually results in a crystal-clear broth."
Ingredients
Extra-virgin olive oil
12 to 14-ounces boneless, skinless chicken breast
Kosher salt and freshly ground black pepper
4 cups reduced-sodium chicken broth
1 bay leaf
1 carrot, finely chopped
1 rib celery, finely chopped
1 small zucchini, finely chopped (use pieces with skin only)
1/4 cup pearl barley
Cooking Directions
COAT A GRILL rack with oil and preheat the grill on high for 5 minutes. Rub a little oil all over the chicken breast and season all over with salt and pepper. Reduce the heat to medium-high and grill the chicken, over direct heat, with the cover closed, until cooked through, turning once, about 12 minutes. (If the chicken is not cooked after 12 minutes, but is significantly browned on both sides, move it to an indirect heat spot on the grill and continue to cook.) Set aside and keep warm.
Bring the broth and bay leaf to a simmer in a medium saucepan, then turn off the heat, cover, and set aside.
Bring a few inches of water to a boil in a small saucepan and salt the water. Add the carrot, celery, and zucchini and return to a boil. Cook until just tender, for about 2 minutes. Drain and rinse with cold water. Fill the same small saucepan with 1/2 cup fresh water, bring to a boil, add salt, and cook the barley according to package instructions, until tender. Drain and rinse.
Place the chicken breast on a cutting board and slice crosswise into thin slices. Reheat the broth if necessary. Discard the bay leaf.
Spoon the vegetables and barley into serving bowls, then add the hot broth. Lay several slices of chicken over the surface of each bowl.
Per serving: 113 calories, 14 g protein, 8 g carbohydrates, 2 g total fat, 0.5 g saturated fat, 2 g fiber, 460 mg sodium
This recipe was styled by chef Karen Pickus for Good Morning America.
Reprinted from "One Dish at a Time" by Valerie Bertinelli. Copyright (c) 2012 by Valerie Bertinelli. By permission of Rodale, Inc. Available wherever books are sold.
Other Recipes That You Might Like