Lea Michele's Veggie Lentil Burger
Star Snacks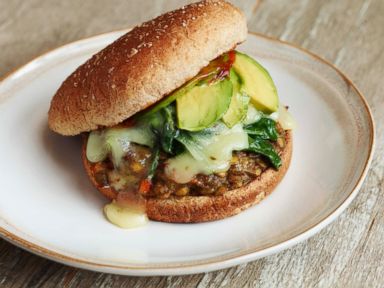 From the kitchen of Lea Michele
|
It's always interesting to hear what a celebrity eats to stay looking so darn good. Lea Michele shares some of her snacking secrets to staying gorgeous in her new book, "Brunette Ambition." Try one of her recipe below for a Veggie Lentil Burger.
Ingredients
1 cup dry lentils
½ onion, finely chopped
½ carrot, finely chopped
2 tablespoons olive oil
Black pepper, to taste
1 tablespoon soy sauce
¾ cup breadcrumbs
1 egg
½ cup spinach
½ lemon
Cooking Directions
Boil the lentils in 2.5 cups of salted water for 45 minutes. Preheat the oven to 200 degrees.
Sauté the onion and carrot in olive oil.
In a large mixing bowl, combine the onion, carrots, lentils, pepper, soy sauce, breadcrumbs, and egg. Form the mixture into patties and bake for 20 to 25 minutes.
Using the same pan, sauté spinach. Squeeze lemon juice over spinach, and spoon it over patty.
Top the burger with anything else that you like — I usually add a slice of pepper jack rice cheese, organic ketchup, and a few slices of avocado.
Reprinted from the book Brunette Ambition by Lea Michele. Copyright © 2014 by Lea Michele. Published by Crown Archetype, a division of Random House LLC, a Penguin Random House Company.
Recipe styled by Karen Pickus for Good Morning America.
Other Recipes That You Might Like