The Voltaggio Brothers' Bahn Mi
Try this Delicious Sandwich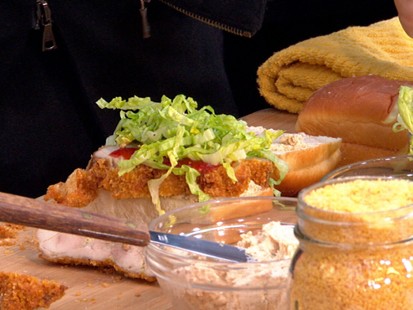 Bryan and Michael Voltaggio also prepare a fried chicken sandwich on "GMA."
From the kitchen of The Voltaggio Brothers
|
This is a great recipe for someone interested in trying sous vide cooking.
Ingredients
For the pork belly:
500g coarse salt
250g sugar
37g pink salt
For the pork shoulder brine:
4 liters water
1/2 pound brown sugar
1/2 cup salt
1/2 cup fish sauce
2 1/2 limes juiced
1/2 cup coriander seeds
2 tablespoons pink salt
1/4 cup black pepper
For the pork shoulder spice:
90g smoked paprika
90g onion powder
90g garlic powder
135g black pepper
135g coriander
135g salt
180g sugar
For the banh mi spread:
3 onions chopped small dice
10 cloves garlic chopped finely
1/3 cup fish sauce
165 g mayonaise
165 g sour cream
For teh pickled vegetables:
carrots
daikon
jalapenos
rice wine vinegar
For the garnish:
fried pork rinds
Banh Mi spread on both sides of bread
pickled vegtables
pork shoulder
pork belly
coriander flowers and leaves (or cilantro)
Cooking Directions
For the pork belly:
Combine all ingridents for cure. Rub pork belly heavily with cure. Cure pork belly for 12 hours. Rinse, dry. Vaccuum seal in bag and cook for 12 hours at 70*C.
For the pork should brine:
Bring all ingredients to a boil. Cool down. Brine pork shoulder for 12 hours.
For the pork shoulder spice:
Blend all together until fine.
For the pork shoulder:
Remove from brine after 12 hours. Dry. Rub heavily with spice mixture. Cook at 175*F for 8 hours with 50% humidity.
For the Banh Mi spread:
Caramelize garlic and onions until dark golden brown then deglaze with fish sauce. Cool down. Mix with mayonnaise and sour cream.
For the pickled vegetables:
Cut carrots and daikon into desired shapes (julienne) Cut jalapenos into desired shapes (1/4" slices) Marinate in rice wine vinegar (enough to submerge) overnight. For best results vacuum seal.
Recipe courtesy the Voltaggio brothers.
This recipe was styled by chef Karen Pickus for Good Morning America.
Other Recipes That You Might Like