The Voltaggio Brothers' Cold Fried Chicken Sandwich
A Modern Twist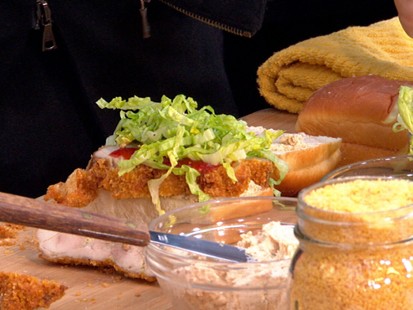 Bryan and Michael Voltaggio also prepare a fried chicken sandwich on "GMA."
From the kitchen of The Voltaggio Brothers
|
This delicious sandwich even has a side of homemade pickles. If you have a cryovac machine, this is a great recipe to get you started.
Ingredients
For the chicken:
6 chicken thighs skin off
1 tablespoon of Extra Virgin Olive Oil
Salt
Black Pepper
For the breaded chicken:
1 box corn flakes ground coarse in food processor
2 cup all purpose flour
6 chicken thighs portioned
200 grams eggs
50 grams milk
For the ranch spice:
4 teaspoons dried onion powder
4 teaspoons garlic powder
2 teaspoons fine sea salt
2 teaspoons ground black pepper
1/2 teaspoon lemon powder
1/4 teaspoon smoked paprika
1/4 teaspoon piment d'espelette
1/4 teaspoon dried parsley
For the ranch spread:
500 grams cream cheese
75 grams buttermilk
37 grams ranch spice
3 grams salt
For the garnish:
Romaine cut fine (Julienne)
Gindos Hot Sauce
Ranch spread on both sides of bread
Chicken
Homemade Dill Pickles
For the pickles:
20lb large pickling cucumbers
500g fine sea salt
3L white distilled vinegar
9L filtered water
315g cup pickling spice
48 cloves garlic, peeled and halved
48 sprigs fresh dill
For the pickling spice:
4 cups kosher salt
½ cup caraway seeds
½ cup fennel seeds
½ cup coriander seeds
½ cup crushed red peppers
Cooking Directions
For the chicken:
Place chicken in vacuum sealable bag do not overlap. Add olive oil, salt and black pepper to season. Seal bag, cook at 65*Celcius for 1 hour in a water bath. Once done, place on flat surface or between sheet trays in fridge and put some weight on top so that it flattens.
For the breaded chicken:
Make egg wash mixture by mixing eggs and milk with whisk. Coat chicken portions with all purpose flour. Then coat with egg wash. Then coat with cornflakes. Fry till golden brown. Season with salt. Cool down.
For the pickling liquid:
Bring the vinegar and the water up to a boil with the spices and pour over the dill and the garlic. Allow to cool
Soak cucumbers in ice water for 6 hours. Slice the cucumbers 1/8 of an inch and season with the salt, should be salty. Allow to drain for 1 hour.
Cryovac 500g cucumbers with 500g pickling liquid, ¼ jalapeno, 1 fresh dill sprig. Allow to set overnight.
Recipe courtesy the Volataggio brothers.
This recipe was styled by chef Karen Pickus for Good Morning America.
Other Recipes That You Might Like