Wangs N Heat
Kick Up the Spice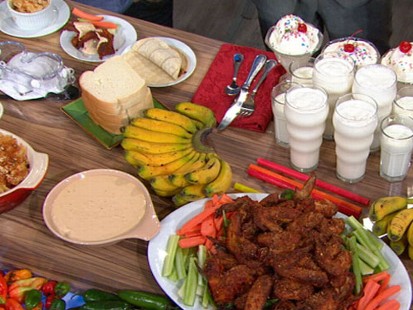 The Food Network's Aaron Sanchez and Roger Mooking prepare favorite hot dishes.
From the kitchen of Keith "Button" Hicks
|
These deep fried wings will be the hit of your football party. Make sure your guests have extra water handy- these wings are super spicy!
Ingredients
16 jumbo wangs
1 quarter cup hot sauce your choice
1 quarter cup peanut oil
6 dry ghost chilies
3 garlic cloves
Sriracha Sauce
Jamaican Seasoning
For the Blue Cheese Chipotle Ghost Pepper Sauce:
8 oz. Roquefort cheese
4 cups mayonnaise
4 fresh ghost peppers
4 reconstituted chipotle peppers
salt and pepper to taste
Cooking Directions
Marinate wings over night in hot sauce of choice and pureed habaneros in peanut oil. In a pan, heat up pureed ghost peppers, garlic. Let the oil cool.
Once cooled, extract oil from the peppers and garlic and then process. After processing, blend the chili back in with the cooled oil and marinate the chicken in it. Deep fry the wings for 15 minutes.
Toss wings in a Sriracha sauce and Jamaican jerk seasoning (ground scotch bonnet peppers, paprika, coriander, cinnamon)
Cream the Roquefort cheese with mayonnaise and mix in processed reconstituted chipotle and ghost peppers
Drizzle the blue cheese on top.
This recipe was styled by chef Karen Pickus for Good Morning America.
Recipe courtesy of Chef Keith "Button" Hicks
Other Recipes That You Might Like