Weight Watchers' Mini Cheesecake Bites with Blueberry Topping
Sweet, Guilt-Free Dessert Bites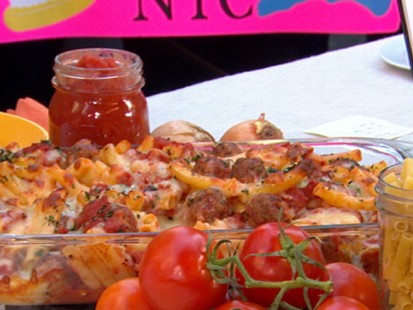 Liz Josefsberg prepares various recipes from the "Weight Watchers 50th Anniversary Cookbook."
From the kitchen of Weight Watchers
|
These mini cheesecakes with crisp gingersnap crusts offer up creamy goodness with little compromising. Bake the cheesecakes up to two days in advance and store them in the refrigerator; they taste even better with a day of chilling. The blueberry topping can be assembled in minutes.
Good idea:
To crush the gingersnaps, place them in a zip-close plastic bag, squeeze out the air, and seal. Use a
rolling pin to flatten the snaps to fine crumbs.
Ingredients
2 teaspoons honey
8 gingersnaps, crushed to fine crumbs (about ½ cup)
1 (8-ounce) package light cream cheese (Neufchâtel), room temperature
¼ cup sugar
1 large egg
1 teaspoon grated lemon zest
1 teaspoon vanilla extract
¼ cup all-fruit blueberry jam
1 cup blueberries
Cooking Directions
Place the oven rack in the center of the oven; preheat the oven to 375ºF. Line 24 mini-muffin cups with paper liners, then spray the liners with nonstick spray.
2 Place the honey in a medium microwavable bowl. Microwave on High for 10 seconds. Add the gingersnap crumbs to the bowl, stirring to form a crumbly mixture. Spoon a scant teaspoon of the
crumbs into the bottom of each muffin cup liner.
3 With an electric mixer on high speed, beat the cream cheese, sugar, egg, lemon zest, and vanilla in a medium bowl until light and fluffy, 3 minutes. Spoon 1 level tablespoon of the mixture into each muffin cup. Bake until puffed and set in the center, 9 minutes. Cool in pans on a rack.
4 Place the jam in a medium microwavable bowl and microwave on High, just until the jam begins to bubble, 15 seconds. Gently stir in the blueberries until evenly coated with the jam. Spoon the berries
over the cheesecakes (about 5–6 blueberries each). Refrigerate until ready to serve.
per serving (2 cheesecake bites): 117 Cal, 5 g Total Fat, 3 g Sat Fat, 32 mg Chol, 108 mg Sod, 15 g Carb, 1 g Fib, 3 g Prot, 21 mg Calc.
PointsPlus value: 3.
This recipe was styled by chef Karen Pickus for Good Morning America.
Excerpt from WEIGHT WATCHERS 50TH ANNIVERSARY COOKBOOK. Copyright © 2013 by Weight Watchers International, Inc. All rights reserved. Reprinted with permission of St. Martin's Press.
Other Recipes That You Might Like