Home
>
GMA
>
Recipes Home
>
Wolfgang Puck's Chicken Breast with Ham, Provolone, Rosemary, and Tomato Sauce
Wolfgang Puck's Chicken Breast with Ham, Provolone, Rosemary, and Tomato Sauce
Try This Easy Weeknight Fall Meal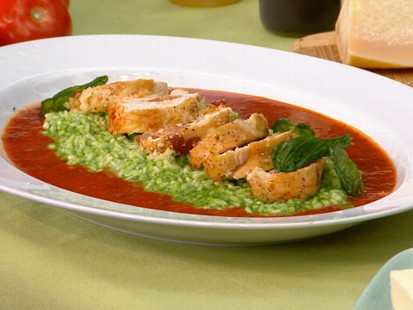 The famed chef cooks up a delicious autumn-themed meal.
From the kitchen of Wolfgang Puck
|
Make this beautiful dinner for your next family get together. This main course is also great for a fancy fall dinner with friends!
Ingredients
4 chicken breast halves, skinless, boneless, about 8 ounces each
4 slices prosciutto or any thinly-sliced ham
4 slices provolone cheese
3 tablespoons extra virgin olive oil
Pinch of chile flakes
1 tablespoon fresh rosemary, chopped
2 tablespoons white wine
Kosher salt, freshly ground black pepper, to taste
12 ounces homemade or jarred tomato sauce
4 tablespoons buttered bread crumbs
Basil oil, for garnish
Fried basil leaves, for garnish
For the basil oil:
2 cups basil leaves, packed
1 cup olive oil
Cooking Directions
Pound chicken breasts with mallet until 1/4 inch thick, then season each piece with salt and freshly ground black pepper.
Place 1 slice of ham and cheese on each. Tuck in sides and roll up as for jelly roll. Skewer with bamboo skewer or tie. In medium size bowl add olive oil, pinch of chile flakes, rosemary, white wine, salt and pepper, and tomato sauce. Whisk ingredients together and pour in to a baking dish. Place rolled chicken breast on top of sauce.
Sprinkle top of chicken with buttered bread crumbs, cover with parchment paper and aluminum foil, and place in pre-heated 400 degrees F. oven for 20 minutes. Remove foil and continue to cook chicken breasts until bread crumbs turn golden brown, about 5 minutes.
Remove from oven let stand for 5 minutes before serving. Garnish with a little basil oil and fried basil leaves. Serve with Parmesan Tomato Risotto.
For the basil oil:
In boiling salted water, blanch basil leaves for 2 seconds. Refresh in bowl of iced water and drain well. Place on baking tray lined with paper towel and let dry for 1 hour. Pour oil in a blender. Turn machine on to puree and slowly add the blanched basil. Continue to process until pureed and well blended. Transfer to a squirt bottle and allow to steep for a few hours. Use as needed.
Recipe courtesy of Wolfgang Puck.
This recipe was styled by chef Karen Pickus for Good Morning America.
Other Recipes That You Might Like