Scott Peacock's Apple Cake with Caramel Glaze
Apple and Carmamel Cake from Scott Peacock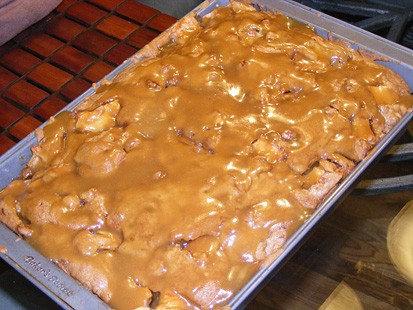 From the kitchen of Scott Peacock
|
Ingredients
For the cake:
1 cup light brown sugar, packed
1 cup granulated sugar
1 1/2 cups vegetable oil
3 eggs
3 cups unbleached all-purpose flour
1 teaspoon baking soda
2 ½ teaspoons of freshly ground cinnamon (preferably Ceylon)
1/2 teaspoon freshly grated nutmeg
1/2 teaspoon salt
7 apples, preferably organic peeled and diced into 1-inch pieces
1 1/4 cups coarsely chopped pecans
2 1/2 teaspoons vanilla
For the glaze:
6 tablespoons unsalted butter
1/3 cup granulated sugar
1/3 cup light brown sugar
Pinch salt
1/2 cup heavy cream
Cooking Directions
To prepare the cake:
Preheat oven to 325 degrees. Butter and flour an 9-by-13-inch baking pan.
In a mixing bowl, beat sugars, oil and vanilla until well-blended. Add the eggs one at a time, beating well after each addition. Sift together flour, baking soda, cinnamon, nutmeg and salt and gradually add to the sugar and eggs, mixing just until well-blended.
Fold in the apples, pecans and turn into pan.
Bake for 1 to 1 1/4 hours (begin to check after 50 minutes), until a toothpick inserted in the center of the cake comes out clean. Remove from oven and allow to cool in the pan while preparing the glaze.
To prepare the glaze:
In a medium sized saute pan, melt the butter. Add sugar, salt. and cream. Stir until blended and cook over medium-low heat for 2 minutes. Increase heat and boil for about 2 minutes until dime sized bubbles cover the surface of the glaze. Remove from heat and cool slightly until glaze begins to thicken. Spoon over cake.
Other Recipes That You Might Like