Roasted Leg of Lamb
Traditional Easter Feast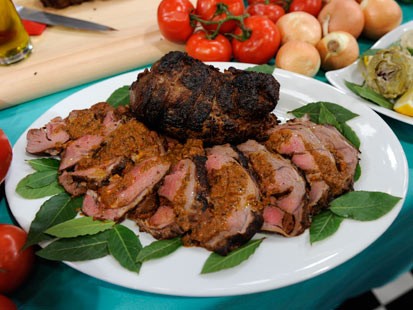 From the kitchen of Michael Psilakis
|
"Butterflying the lamb gives you options that you don't have with a bone. A good butcher will be happy to do this for you. Here, I've made a very flavorful stuffing from sun-dried tomatoes, which looks great when you carve the roast. Normally, I don't see the point of mincing herbs, but rosemary, with its woody sprigs, is hard to eat. If you're using it only as a flavoring agent, you can just pull the sprigs out at the end, but if you want to eat it -- and lamb loves rosemary -- it has to be very finely chopped."
-Michael Psilakis
Ingredients
For the Stuffing:
11/2 cups large, plump sun-dried
tomatoes, roughly chopped
1/4 cup oil-cured black olives, pitted
1 teaspoon minced rosemary
Leaves only from 3 small sprigs thyme
1 teaspoon dry Greek oregano
1 tablespoon Dijon mustard
15 cloves Garlic Confit (CLICK HERE for recipe) or 1/3 cup Garlic Purée, if you have it
3 tablespoons extra-virgin olive oil
11/2 tablespoons red wine vinegar
About 1 teaspoon cracked black pepper
For the Lamb:
3 to 31/2 pound boneless leg of lamb,
butterflied to flatten, some of the fat trimmed off
Kosher salt and cracked black pepper
Extra-virgin olive oil
11/2 cup water
1 tablespoon Dijon mustard
1 tablespoon Garlic Puree, or 2 to 3 cloves Garlic Confit (CLICK HERE for recipe), if you have it
3 large sprigs rosemary
3 tablespoons blended oil (90 percent canola, 10 percent extra-virgin olive)
Cooking Directions
In a food processor, combine all of the ingredients for the stuffing and puree to a smooth, thick paste, about 45 to 60 seconds. Reserve about 2 tablespoons of the stuffing.
Lay the lamb out on a work surface with the fattier side down. Season generously with kosher salt and pepper and spread an even layer of stuffing over it, pressing the stuffing down into the crevices. Drizzle with a little olive oil and roll the lamb up in a spiral, seasoning the fatty side with salt and pepper as you roll. Tie in 3 or 4 places crosswise and 1 or 2 places lengthwise (twist the string around itself 3 times instead of just once before you pull it tight, so it won't loosen as soon as you let go). Ideally, allow the meat to sit on a rack, uncovered, in the refrigerator overnight, to dry the surface well and develop all the Greek flavors.
Bring the lamb to room temperature while you preheat the oven to 375 degrees F. In a small roasting pan, whisk the reserved stuffing with the water, mustard, and Garlic Puree. Throw in the rosemary sprigs. Place a rack in the pan; the rack should not touch the liquid.
Again, season the lamb on all sides very generously with kosher salt and pepper. In a large, heavy skillet, warm the oil over medium-high heat. When the oil is very hot, sear the lamb well on all sides, using tongs and leaning the meat up against the sides of the pan to sear the thinner sides and cut ends. Transfer the lamb to the rack seam-side up and roast for about 1 hour, basting every 15 minutes with the pan liquid. (When the meat is medium-rare -- 140 degrees F -- a skewer inserted at the thickest point should feel warm when pressed against your lower lip.)
Rest the meat for about 15 minutes. Slice 1/4-inch-thick pieces, drizzle with the pan sauce, and finish with a little extra-virgin olive oil.
* Optional: Peel and cut a few potatoes into rough wedges, toss with a little olive oil, season with salt and pepper, and throw in the roasting pan.
*To butterfly a piece of boneless lamb from the leg, lay the piece out "at, fattyside down. Make 8 to 10 shallow cuts in the thicker parts, then open them out like a book and press flat. Your goal is a relatively flat surface, but don't worry if it's a little uneven -- it will be concealed inside, with the stuffing.
If your butcher has not already done so, first butterfly and trim the lamb hearts: trim off the very top of each heart at the wider end, crosswise, to expose the ventricles. Trim off any white fat, and go inside each of the ventricles to trim any veins, leaving just the deep red muscle. Turn the cut sides down and trim downward to remove any fat from the outside (don't be obsessive about this). Cut through the ventricles close to the dividing piece, and open out like a book to butterfly. From each heart, you should have 1 small piece (from the smaller ventricle) and 2 bigger pieces (from the larger ventricle).
Family Packs
Sometimes, a boneless leg of lamb is much larger than you want to serve. If so, make the most of it! Cut off a piece, freeze it, and use later for souvlaki. Alternatively, you can put it through a grinder and have meat for a ragout for Open Goat Moussaka, Papoutsakia, Seftalia, or the Lamb Burger. Buying family packs for the home cook is always a great way to save money. Be sure you double-wrap all items to be frozen and label them with weights and dates.
Serves 6, or more family-style
-Courtesy Michael Psilakis, "How to Roast a Lamb"

-Food Styled by Karen Pickus
Other Recipes That You Might Like