Three-Ingredient Apple Crisp
Dessert, Fast!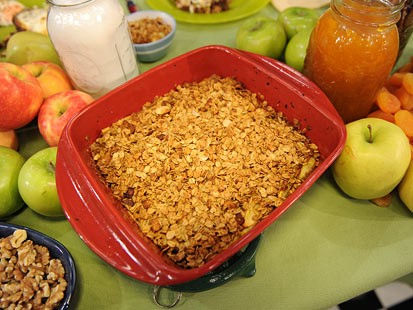 From the kitchen of Sara Moulton
|
"If you don't count the salt (and you shouldn't), you might wonder how the heck anyone
can make a delicious apple crisp with just three ingredients. The answer is by starting with
granola, which comes fully loaded with oats, nuts, sugar and dried fruit. (Is this cheating?
Don't tell anyone.)"
-- Sara Moulton
Ingredients
1/3 cup apricot preserves or sweetened fruit spread
4 large Golden Delicious apples (about 2 pounds)
Table salt
2 cups sweetened granola
Cooking Directions
Preheat the oven to 350°F. Lightly grease a shallow 6-cup baking dish. Melt the preserves in the microwave or in a small saucepan on the stove.
Peel, core and thinly slice the apples; toss them with the preserves and a pinch of salt in the baking dish and spread them out to make an even layer. Sprinkle the granola evenly over the apples.
Cover the dish loosely with a sheet of greased aluminum foil and bake for 30 minutes. Remove the aluminum foil and bake for about 15 minutes more, or until the apples are tender. Serve warm or cold .
Hands-on time: 15 minutes
Total preparation time: 60 minutes
Courtesy "Sara Moulton Everyday Family Dinners"
Food Styled by Karen Pickus
Other Recipes That You Might Like