Gluten Free Stir-Fry With Tofu, Green Beans and Tomatoes
Gluten Free Vegetarian Entree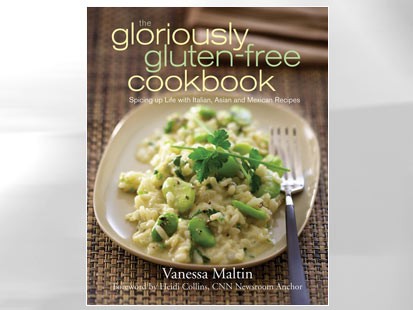 From the kitchen of Katie Chin of Thai Kitchen
|
"The Gloriously Gluten-Free Cookbook," compiled by Vanessa Maltin and published by Wiley, shares this recipe from the kitchen of Chef Katie Chin of Thai Kitchen. It is a light but satisfying vegetarian dish.
Ingredients
3 tablespoons vegetable oil
10 ounces tofu, cut into 1 x 1 1/2-inch slices
1 tablespoon oyster sauce
8 ounces fresh green beans, ends broken off
1 cup sliced onion
1 teaspoon minced garlic
1/4 cup vegetable stock
2 tomatoes, diced
1 tablespoon Thai Kitchen chili sauce
Cooking Directions
1. Heat a large wok or nonstick skillet over high heat (it is easier to cook tofu in a nonstick pan). Add 2 tablespoons of the oil and then the tofu. Cook the tofu for about 2 minutes, then carefully turn it over and cook until lightly browned on both sides, about 2 minutes more.
2. Add the oyster sauce and gently simmer, making sure the tofu doesn't break into pieces, for about 2 minutes. Remove the tofu and place on a platter.
3. Lower the heat to medium-high. Add the remaining 1 tablespoon of oil, the beans, onions, and garlic and cook, stirring, for 1 minute. Add the stock, cover, and cook for 1 minute more.
4. Uncover and continue to cook, stirring, until all the liquid is absorbed, about 2 minutes. Add the tomatoes and chili sauce and stir until well mixed, about 1 minute. Return the tofu to the pan and gently mix together before serving.
Serves 4
-Courtesy Vanessa Maltin,"The Gloriously Gluten-Free Cookbook," from Wiley publishing, available April 26. With the help of chefs Edgar Steele of Cafe Atlantico, Katie Chin of Thai Kitchen, and Keith Brunell of Maggiano's Little Italy, Maltin presents Mexican, Asian and Italian recipes that are both safe and tasty for those suffering from celiac disease, a condition in which people are unable to digest gluten.
Other Recipes That You Might Like