Diane Henderiks' Carrot Ginger Soup
Recipe Courtesy Diane Henderiks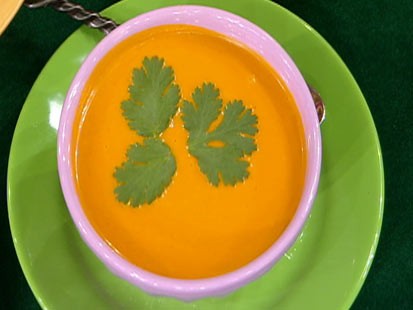 From the kitchen of Diane Henderiks
|
Ingredients
1 tablespoon olive oil
½ cup onion, chopped
1/2 cup celery, chopped
1 3-inch piece of fresh ginger, peeled and thinly sliced
2 carrots, peeled and coarsely chopped
1/4 cup Cointreau
2 teaspoons ground nutmeg
4 cups low sodium chicken or veggie broth
Salt and pepper to taste
Cooking Directions
Heat oil in saucepan over medium heat. Add onion & celery, saute about 4 minutes.
Add next 5 ingredients (ginger through broth).
Bring to boil, reduce heat, cover and simmer for about 30 minutes or until carrots are tender.
Puree soup in batches in blender until smooth.
Add additional broth for desired consistency.
Other Recipes That You Might Like