Diane Henderiks' Strawberry Tofu Cheesecake
Recipe Courtesy Diane Henderiks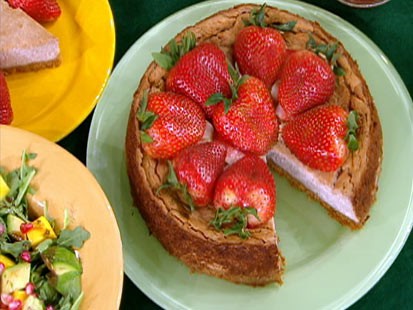 From the kitchen of Diane Henderiks
|
Ingredients
1 recipe Strawberry Tofu Cheesecake Crust (recipe can be found here)
16 ounces silken tofu, cubed
8 ounces low fat cream cheese, softened
1/2 cup sugar
1 whole egg
2 egg whites
1 1/2 teaspoons pure vanilla extract
1 teaspoon lemon juice, freshly squeezed
1 tablespoon lemon zest, freshly grated
1 teaspoon cinnamon
1 teaspoon nutmeg
1/4 teaspoon ground ginger
3 tablespoons whole wheat flour
2 cups strawberries, pureed
Cooking Directions
Combine all ingredients for crust in a large bowl.
Press into bottom of 10 inch springform or cake pan and set aside.
Preheat oven to 350 degrees F.
Combine cream cheese and tofu in a large bowl. Beat in sugar and eggs.
Add vanilla, lemon juice, lemon zest, spices and flour. Blend well.
Add pureed strawberries and fold gently to combine.
Bake for about 1 1/2 hours or until toothpick inserted in center comes our clean.
Remove from oven and let stand 30 minutes.
Cover and refrigerate at least 6 hours before serving.
Other Recipes That You Might Like