Cheeseburger Lettuce Wraps
Have a Quick Bite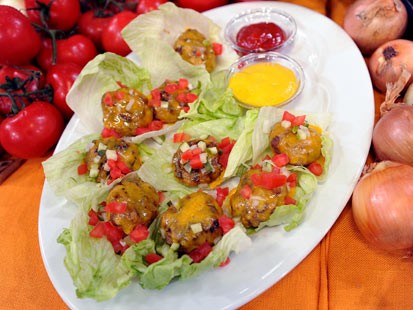 From the kitchen of Rachael Ray
|
Ingredients
1 1/2 pounds ground sirloin
1/2 small white or yellow onion, grated
2 tablespoons ketchup
2 tablespoons yellow mustard
Salt and black pepper
Extra virgin olive oil
1/2 pound brick sharp cheddar cheese, sliced into 1/4 inch pieces
1 head iceberg lettuce, cut in quarters and leaves gently removed for cups
2 plum tomatoes, seeded and chopped
2 large dill or half sour pickles, chopped
Cooking Directions
Preheat a grill pan, outdoor grill, or a large nonstick skillet over medium high heat.
In a medium mixing bowl, combine the meat with onion, ketchup, and mustard. Form 12 large meatballs. Flatten the balls into small patties and season with salt and pepper. Drizzle with EVOO to keep them from sticking to cooking surface and place on the preheated grill pan or grill. Cook for 3 minutes on each side and then add cheese to melt over patties. On outdoor grill, close the lid to melt the cheese. In a skillet or on a grill pan, tent the mini cheeseburgers loosely with foil to melt cheese.
Arrange the mini cheeseburgers on an individual lettuce cup and top with chopped tomatoes and pickles.
Food styled by Karen Pickus
Other Recipes That You Might Like