Sam Champion Snacks on Key Lime Pie in Key West
Learn How to Make Key Lime Pie From Key West's Casa Marina Restaurant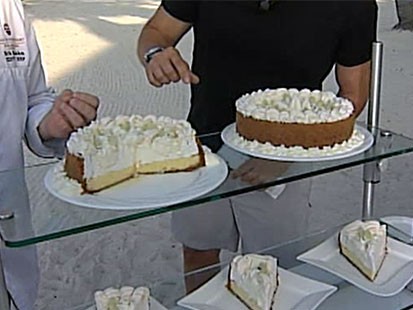 From the kitchen of Casa Marina Resort
|
"Good Morning America's" Sam Champion reported on the oil slick from Key West, Fla. But it wasn't all bad news. While he was there, Sam got the chance to snack on a delicious Key Lime pie from the Casa Marina Resort.
Ingredients
Crust:
32 Graham crackers
6 tablespoons Sugar
1/2 pound of butter
Filling:
4 egg yolks
One 14 oz. can condensed milk, sweetened
1/2 cups key lime juice
2 teaspoons lime zest
Meringue:
3 1/2 cups of sugar
2 cups egg whites
Whipped Cream:
1 pint heavy cream
4 tablespoons of Powdered Sugar
Cooking Directions
Crust: Crush graham crackers, place in mixing bowl. Add sugar and melted butter, mix until incorporated. Place a cake mold on a sheet of aluminum foil; roll the edges of foil up to the cake mold to create a bottom for it. Spray the inside of the cake mold and the foil with pan spray. Add graham cracker mix to the cake mold, gently spread along bottom, and press against inside of mold. Allow to chill so crust can set.
Filling: Use an electric mixer and beat the egg yolks until they are thick and turn to a light yellow color, don't over mix. Turn the mixer off and add the sweetened condensed milk. Turn speed to low and mix in half of the lime juice. Once the juice is incorporated add the other half of the juice and the zest, continue to mix until blended (just a few seconds). Pour the mixture into cake mold pre-lined with the graham cracker crust, but only fill half way. Set aside.
Meringue: Dissolve sugar into egg whites using a Bain-Marie, or double boiler. Whip mixture in an electric mixer until stiff peak consistency. Equip piping bag with large star-tip, fill bag with meringue and pipe onto cake to form design you like!
Combine: Bake at 300F for 35 – 40 minutes, poke with toothpick, and when it comes out clean, it's finished.
Whipped Cream:
Whip cream in bowl until soft peak stage, add sugar, whip until hard peak.
Other Recipes That You Might Like