Key West: Pink Shrimp Ceviche
Hogfish Bar and Grill Gives Key West Some Flavor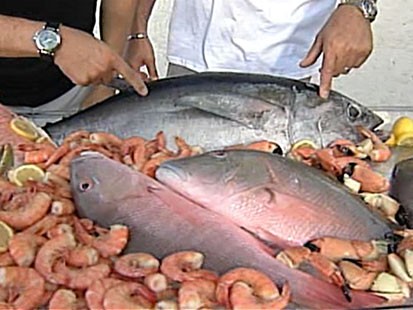 From the kitchen of Hogfish Bar and Grill
|
"Good Morning America's" Sam Champion reported on the oil slick from Key West, Fla. But it wasn't all bad news. While he was there, Sam got the chance to dig into the local cuisine.
Check out the recipe for Hogfish Bar and Grill's Key West Pink Shrimp Ceviche.
Ingredients
1 ½ lbs. peeled and deveined fresh shrimp
(preferable fresh Key West Pink Shrimp)
2 small red onions
1 red bell pepper
1 green bell pepper
2 jalapeno peppers (seeds removed)
1 bunch of fresh cilantro
1 teaspoon cumin
2 teaspoon salt
1 teaspoon pepper
Juice of 10 lemons
Juice from 6 limes
Cooking Directions
First dice all vegetables and cilantro & place in large bowl.
Chop shrimp into smaller than bite sized pieces and add to bowl with veggies.
Add the lime, lemon juice and the cumin, salt and pepper.
Toss to insure the equal distribution of the citrus juice as that will be the
process that cooks the shrimp.
Cover and let marinate in the refrigerator for approximately 8 hours or until
Shrimp is not longer translucent.
*To save time you can par boil the shrimp in the shells for 4 minutes
until just barely cooked and then peel and chop them as noted above. Make sure
you give enough time in the citrus juices to finish the cooking process and
flavor the shrimp.
Other Recipes That You Might Like