Emeril's Rustic Blackberry Cobbler
Only Thing Missing Are the Fireworks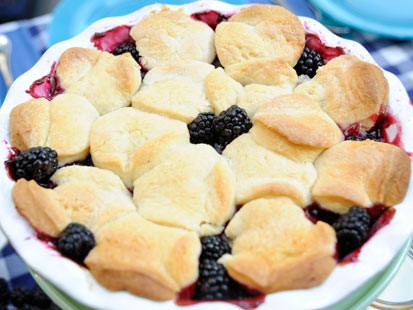 From the kitchen of Emeril Lagasse
|
This old-fashioned American classic just screams "Fourth of July" to me!
Ingredients
4 pints fresh blackberries, rinsed briefly and drained
3/4 cup sugar
2 tablespoons cornstarch
2 teaspoons freshly squeezed lemon juice
1 1/2 cups all-purpose flour, plus more for dusting and rolling out
2 teaspoons baking powder
1/4 teaspoon salt
6 tablespoons cold unsalted butter, cut into pieces
3/4 cup plus 2 tablespoons heavy cream
1/2 teaspoon vanilla extract
Vanilla ice cream or whipped cream, for serving (optional)
Cooking Directions
Preheat the oven to 375°F.
In a large mixing bowl, combine the berries with 1/2 cup of the sugar, the cornstarch, and the lemon juice. Toss well. Place the berry mixture in a deep-dish pie plate and cover it with foil. Set the pie plate on a baking sheet (to catch any juices that may bubble over later), and transfer it to the oven. Bake until the berries begin to release their juices and soften, 15 to 20 minutes.
While the berries are baking, combine 3 tablespoons of the remaining sugar with the flour, baking powder, and salt in a mixing bowl. Add 4 tablespoons of the butter and work it in with a pastry blender, two forks, or your fingers until the mixture resembles coarse crumbs. Add the ¾ cup heavy cream and the vanilla, and stir until the mixture just comes together to form a dough. Turn the dough out onto a lightly floured surface and dust it lightly with flour. Using a lightly floured rolling pin, roll the dough to a thickness of about 1/2 inch. Using a 2 1/2-inch floured cutter,
cut the dough into 8 rounds.
When the berries have softened, remove the baking dish from the oven and remove the foil covering. Stir the berries well to distribute the juices. Arrange the dough rounds on top of the berries. Brush the rounds with the remaining 2 tablespoons heavy cream, and sprinkle the remaining 1 tablespoon sugar over them. Scatter the remaining butter pieces over the hot berries. Return the baking dish to the oven and cook until the biscuits are golden brown and the berries are hot and bubbly, 25 to 30 minutes.
Remove the dish from the oven and allow the cobbler to cool for 15 to 20 minutes before serving. Serve warm, spooned into shallow bowls and garnished with vanilla ice cream or whipped cream if desired.
Recipe courtesy Emeril Lagasse, "Farm to Fork: Cooking Local, Eating Fresh" courtesy MSLO, Inc
Food styled by Karen Pickus
Other Recipes That You Might Like