Home
>
GMA
>
Recipes Home
>
Diane Henderiks' Spinach, Sundried Tomato, and Cheddar Frittata Bites
Diane Henderiks' Spinach, Sundried Tomato, and Cheddar Frittata Bites
Recipe Courtesy Diane Henderiks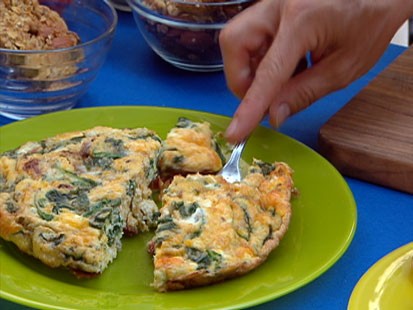 From the kitchen of Diane Henderiks
|
Ingredients
1 tablespoon olive oil
1/4 cup red onion, finely chopped
1/2 cup sundried tomatoes, thinly sliced
2 cups baby spinach leaves, washed, squeezed dry and coarsely chopped
8 egg whites
3/4 cup shredded low-fat cheddar cheese
Salt and freshly ground pepper, to taste
2 tablespoons fresh basil, finely chopped
Cooking Directions
Place oven grate about 8 inches from broiler. Preheat oven to 375 degrees.
Heat 1 teaspoon olive oil in large oven safe saute pan over medium heat.
Add onion, sundried tomatoes and toss to coat well with oil.
Saute 5 minutes.
Add spinach and saute 2 more minutes. Remove from heat.
In a large bowl, whisk the egg whites well.
Stir in spinach mixture and cheese and season with salt and pepper.
Heat remaining 2 teaspoons olive oil in pan.
Add egg mixture, reduce heat to low and shake the pan to level ingredients.
Cook 10 minutes until the eggs are just set.
Turn oven up to broil.
Place pan on grate under broiler for about 2 minutes.
Remove from heat and sprinkle with basil.
Let cool then cut into 1 1/2 inch squares.
Other Recipes That You Might Like