Diane Henderiks' Shiitake Mushroom Cakes with Avocado 'Cream'
Recipe Courtesy Diane Henderiks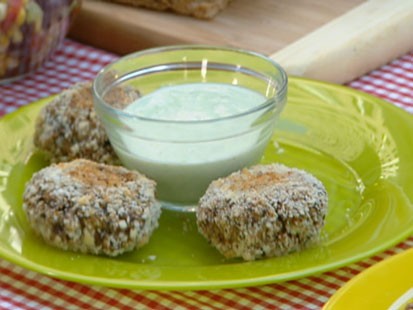 From the kitchen of Diane Henderiks
|
Ingredients
For the mushroom cakes
1 tablespoon olive oil
24 ounces shiitake mushrooms, sliced
1 tablespoon fresh thyme leaves
1 clove garlic, minced
1 teaspoon onion powder
1 tablespoon dry sherry
1 egg plus 3 egg whites, lightly beaten
1/4 cup Parmesan cheese, grated
1/4 cup parsley leaves
1/4 cup basil leaves
Salt and pepper to taste
1/2 cup whole wheat bread crumbs
1/4 cup Panko bread crumbs
1 cup combination of whole wheat bread crumbs and Panko
For the avocado "cream":
1 avocado, scooped out
1/2 cup non-fat Greek yogurt
1/4 cup cilantro leaves
1 tablespoon fresh lime juice
1 teaspoon olive oil
Salt and pepper to taste
Cooking Directions
Preheat oven to 350 degrees F.
Heat oil in large pan over medium heat.
Add mushrooms, thyme, garlic and onion powder and cook for about 10 minutes.
Add sherry and cook another 3 minutes.
Place mushroom mixture in food processor. Add eggs, Parmesan cheese and herbs.
Pulse until coarsely chopped. Season to taste with salt and pepper.
Place in large bowl and mix in 1/2 cup whole wheat bread crumbs and 1/4 cup Panko.
Form into 2 inch cakes.
Place remaining 1 cup of bread crumbs on baking sheet and coat each cake with crumbs.
Place rimmed baking sheet in oven and heat for 5 minutes. Add 1 tablespoon olive oil and brush to coat entire sheet.
Add cakes to sheet and bake for 5 minutes. Turn and bake 5 more minutes until browned. Reduce oven temperature to 300 degrees to keep cakes warm.
Mix all ingredients for Avocado Cream in blender or food processor.
Blend until smooth. Season to taste with salt and pepper
Place 2 tablespoons avocado cream on bottom of plate. Top with 2 cakes
Other Recipes That You Might Like